Boosting Service Value with Identify Theft Prevention Solutions
Cybersecurity threats facing consumers take many serious forms, but identity theft can cause the most damage to one's life, reputation, and finances.
Join us for a complimentary and interactive webinar, Boosting Service Value with Identify Theft Prevention Solutions, on Thursday, October 1, 2020 at 11:00 a.m. PT / 1:00 p.m. CT, co-hosted with F-Secure.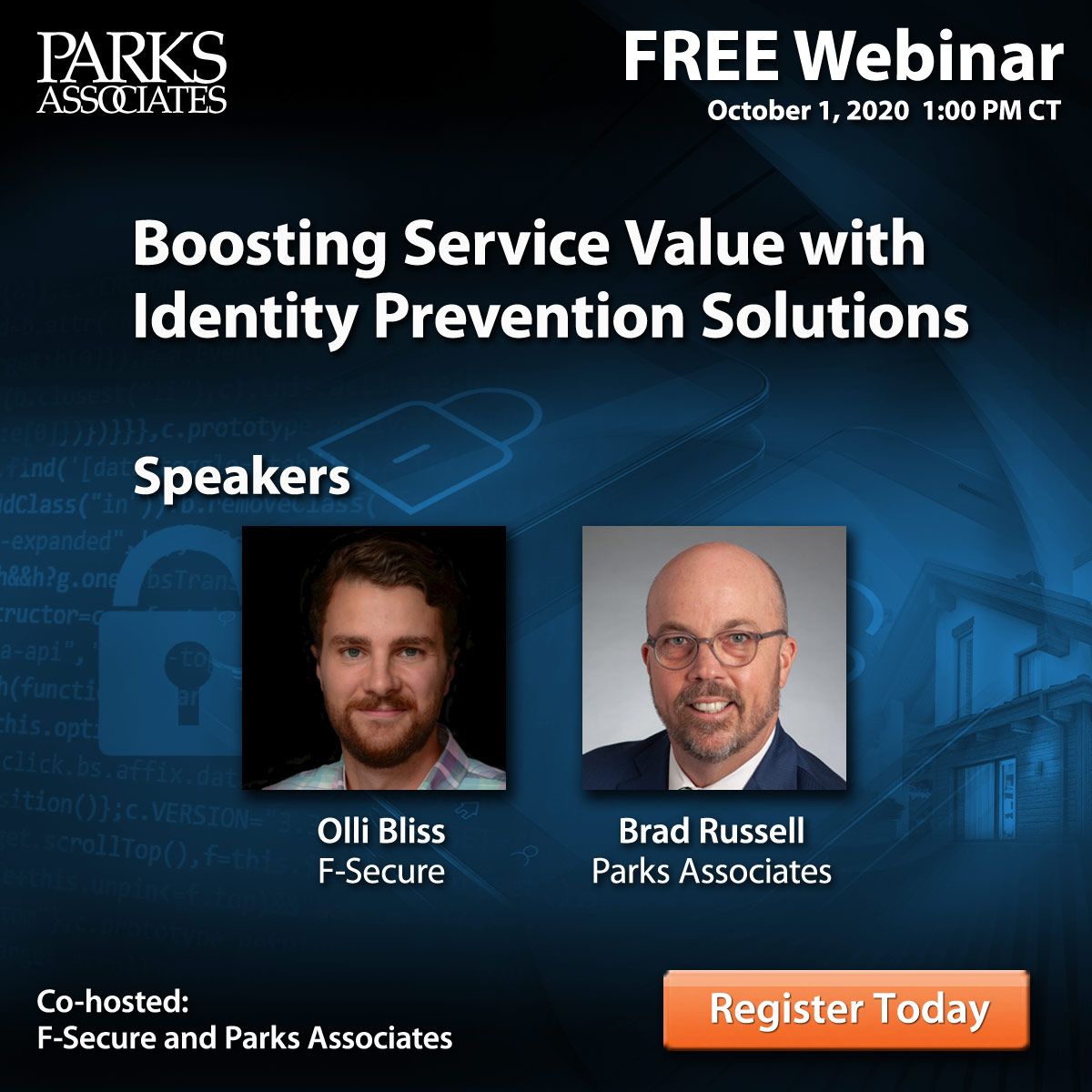 Industry experts Olli Bliss, Business Development, F-Secure and Brad Russell, Research Director, Parks Associates take a deeper look at how increased broadband consumption, increased adoption of IoT devices, and increased number of online accounts has increased the risk profile of users – thus leading to account take-over, thus leading to identity theft.
New identify protection solutions that blend a robust password manager with an online monitoring service and automated consumer alerts enable a rapid mitigation of loss when credentials have been breached. Today, this type of protection can be offered through a variety of consumer-facing service providers, including professional security dealers, insurance, and internet service providers (ISPs).
Consumers cite cybersecurity services as the adjacent service most likely to influence subscription when bundled with home security monitoring. Identity protection also can be a fitting complement for insurance policies grounded in the value proposition of peace of mind and loss prevention. Finally, protecting security of online experiences and the home network is essential to services from ISPs.
Additional Parks Data:
54% of US broadband households are concerned about identity theft, making it the top ranked security/privacy concern ahead of others such as virus infections and hackers accessing a device.
Register today to explore the consumer demand for identity protection and the market opportunities for service providers to leverage value-added identity protection services to enhance customer relationships and drive sales growth.
Next: How Connectivity Issues are being resolved in the Smart Home
Previous: Establishing Frameworks to Protect Consumers with IoT Security

Comments
Be the first to leave a comment.
Post a Comment