Gigabit Broadband Services: Consumer Perceptions
by Brett Sappington | Jun. 23, 2016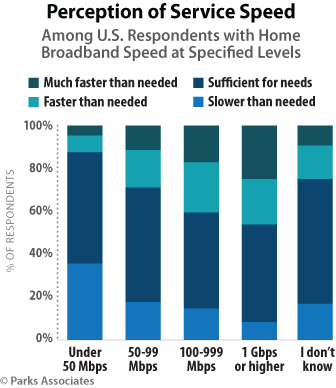 As gigabit-speed broadband offerings emerge in a market, a portion of operators are unable to easily follow competitors to very-high-speed offerings due to capital constraints, existing infrastructure, or other considerations. Those companies that cannot easily match the speeds offered by rivals face a difficult competitive challenge. Even those operators that can expand into gigabit-speed services will have to be selective in their deployments, will have portions of their physical plant that cannot economically justify network upgrades, or both.
Several strategies are available for operators that are constrained to Mbps-speed service offerings. The following approaches are not mutually exclusive, and operators in various markets are now using combinations of these methods to preserve their market position.
Targeting attractive segments. Targeting the "value" segment is often one of the first strategies considered by broadband providers, particularly telcos with xDSL-based network offerings or cable providers with early versions of DOCSIS. For many consumers, very-high-speed broadband offerings will be seen as an unnecessary expense. For cost-conscious customers, spending trumps need in consideration of offerings, but the tradeoff may ultimately hurt perception of the operator's brand. Some operators report that customer satisfaction ratings are lowest among subscribers of their lowest-cost tiers of broadband service.
A second important segment are consumers that place equal or greater value on pay-TV service offerings than on broadband considerations. Concentrating promotional efforts and messaging on the video side of the bundle allows the operator to compete on terms that are more even and less dependent upon price differentiation.
Bundling with mobile services. Increasingly, consumers rely on mobile devices as their primary tool for data-driven services. Yet, these consumers need a Wi-Fi-connected back channel in order to offload mobile traffic. Combined mobile and low-cost broadband offerings should appeal to younger consumers who are heavy mobile users. However, these bundles will be less attractive to multi-person households or households that are heavy consumers of digital media due to the number of connected devices in use. A viable option is for operators to bundle lower-speed broadband services with a Wi-Fi hotspot network. This approach provides users with in- and out-of-home data options for offloading data traffic. However, as the number of free, sponsored Wi-Fi hotspots increase, Wi-Fi hotspot bundling will become less effective in incenting subscriptions.
Unique bundling and promotion. Some operators are leveraging bundling options that will appeal to target niches, including value-sensitive customers, mobile users, and other groups. These bundles and promotional programs often focus on services or features that are not reliant upon heavy data use (such as OTT video streaming or digital media downloads). Programs that provide regular coupons, discounts, or free/subsidized memberships for third-party products or services can supply a mechanism for differentiation in new areas.
While the march to Gbps-speed services will continue, there does remain a place for Mbps-speed broadband offerings. The key will be to find areas of differentiation beyond speed and to define "value" for Mbps-speed services in a way that resonates with consumers.
For more information on market strategies for broadband services, see my industry report Modern Broadband: Maximizing Retention and Revenues.
Further Reading:
Next: In-Depth Look at Operator Security: Consumer Concerns
Previous: Key Trends Driving Broadband Adoption Worldwide

Comments
Be the first to leave a comment.
Post a Comment