HGI PUTS ENERGY SAVING ON THE AGENDA
The Home Gateway Initiative (HGI) has announced that it will be working towards a set of specifications that will outline energy saving solutions for the home gateway. Representatives of the industry body's worldwide member companies will gather at HGI's 13th quarterly meeting, in Florence, Italy, where the topic will be high on the agenda.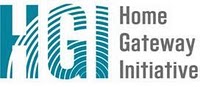 The HGI will be basing its specifications on the EU Code of Conduct on Energy Consumption of Broadband Equipment, which sets out the basic principles to be followed by all parties involved in broadband equipment, operating in the European Community, in respect of energy efficient equipment. As usual, the HGI will be working closely with Standard Developing Organizations, including ITU-T and ETSI (TISPAN and AT-TM), who are already working on this important item.
The HGI has several objectives that will be addressed during the meeting. Top of the agenda is for the HGI to determine the requirements for an energy efficient home gateway; to establish service modes; mapping the 'service modes' into 'operation modes' and estimating the actual realistic energy consumption corresponding to these modes; and expanding on the EU Code of Conduct for home gateway specific functions.
The HGI was founded and launched by nine telecom operators (Belgacom, BT, Deutsche Telekom, France Telecom, KPN, TeliaSonera, NTT, Telefonica and Telecom Italia) in 2004, and now has members from five continents, representing the entire spectrum of actors in the broadband home arena. The main tasks of the HGI are to establish home gateway-related technical and interoperability specifications and provide input to standardisation bodies.
Representing HGI at the CONNECTIONS(TM) Conference, Milan Erbes will be speaking on the SOLUTIONS FOR BROADBAND PROVIDERS panel on Thursday, June 26th at 2:15 PM. Other confirmed speakers for this panel include: Yoav Tzruya, CMO, Exent Technologies and David Haadsma, President and CEO, Bsecure Technologies.
Next: Mid-level Aftermarket Entertainment Remotes Continue to Gain Market Share
Previous: HomePlug Powerline Alliance Update

Comments
Be the first to leave a comment.
Post a Comment