How is the Streaming Video Product Market Changing?
by David Drury | Jul. 8, 2020
The streaming video product market is changing as a whole, with streaming video subscription services contributing significantly to the rising number of users. The COVID-19 crisis is also having an impact on the growth of the streaming video product market, and many sheltering in place households are turning to technology as their primary form of entertainment and productivity. Consumer demand for streaming video products is at an all-time high, and the streaming video market has seen dramatically increased service usage, and intention to purchase these products. Smart TVs, streaming media players, gaming consoles, Blu-ray players, and DVRs have seen a significant increase in purchase intentions in the first quarter of 2020 compared to previous quarters.
Smart TVs, once considered a premium product, are now mainstream video products. With over fifty percent of consumers owning one, they stand to dominate the streaming video landscape. The biggest "must-haves" when it comes to product features for smart TVs are screen size, brand, and 4K video quality. Improving the usability factors and quality of streaming experiences has resulted in over one-third of consumers using a smart TV as their primary streaming video device, up from twenty-five percent in the first quarter of 2019.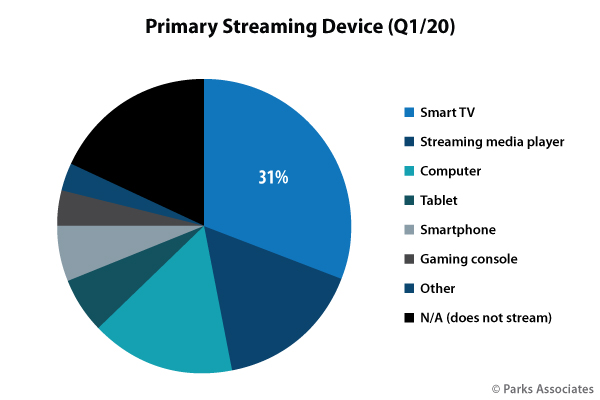 Streaming media players and other streaming video products are beginning to lose their edge against smart TVs in terms of features and ease of use. With over half of US broadband households owning a smart TV and many seeing these devices as "good enough" for streaming video, consumers may not have a reason to continue using streaming media players in the future.
Parks Associates' recently published report, Streaming Video Products: Driving Adoption, examines the adoption of smart video products among US broadband households. The report assesses purchase intentions, factors influencing purchases, product familiarity, and how streaming video platforms impact OTT video and gaming service subscriptions.
Next: What does Google's investment mean for the home security market?
Previous: Smart Appliance Update

Comments
Be the first to leave a comment.
Post a Comment