Lifetime Joins OTT Market, Launching Streaming-Only Movie Service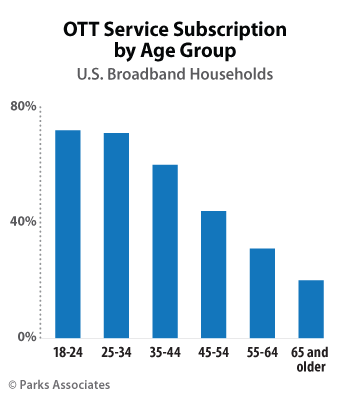 A+E Networks is the newest player to enter the OTT video services market after announcing the launch of a Lifetime streaming-only online video service this week. The service, named the "Lifetime Movie Club," will provide access to the channel's older content for just $3.99 per month and does not require an existing pay-TV subscription.
Parks Associates research cited in the Wall Street Journal shows that Lifetime's entry to the OTT market could be a challenging one. Research director Brett Sappington reports that there are already 75 active OTT video services in the U.S. alone, 12 of which launched in 2015. Ten additional services, including one from Showtime, are planning to launch in the second half of this year.
These new streaming-only video services have proven to be popular among U.S. consumers. In January, Parks Associates research revealed 17% of U.S. broadband households reported that they would likely subscribe to HBO's streaming-only service, HBO Now. Additionally, the firm noted in June that 7% of U.S. broadband households have broadband and OTT services, but do not have a pay-TV subscription. OTT video service revenues are expected to rise from $9 billion in 2014 to over $19 billion in 2019.
Parks Associates tracks 100 individual OTT services worldwide as part of its OTT Video Market Tracker research service. For more information, click here.
To read the full WSJ article, click here.
Further Reading:
Next: Surviving OTT competition: July webinar on the OTT Playbook
Previous: Factors Shaping Multichannel Network Strategy

Comments
Be the first to leave a comment.
Post a Comment