MDUs in Focus: Builders, Property Managers, and Connected Solutions
Parks Associates' 2020 CONNECTIONS™ Community is a virtual conference and networking experience focused on the connected home and IoT industries. The CONNECTIONS™ Community will host six exclusive networking events over the next three months, leading up to the main virtual conference on November 10-12, which will bring together industry leaders to network and discuss the growing smart home market.
The CONNECTIONS Community's first online experience is the MDUs in Focus: Builders, Property Managers, and Connected Solutions session which can be viewed on-demand by all registered attendees.
This session, moderated by Parks Associates Research Director, Brad Russell, includes a presentation of research trends, follow by a presentation from Andrew Beach, VP, Community Technology, Mill Creek Residential. Following this presentation, a panel consisting of industry experts Demetrios Barnes, Co-Founder and Chief Operating Officer, SmartRent, Lee Bienstock, Global Head of Enterprise Partnerships, Google Devices and Services, Google, Stephanie Fuhrman, Managing Director, Global Innovation, Greystar and Felicite Moorman, CEO, STRATIS address new opportunities to expand smart home adoption in the MDU space while adding greater convenience to consumers' lives.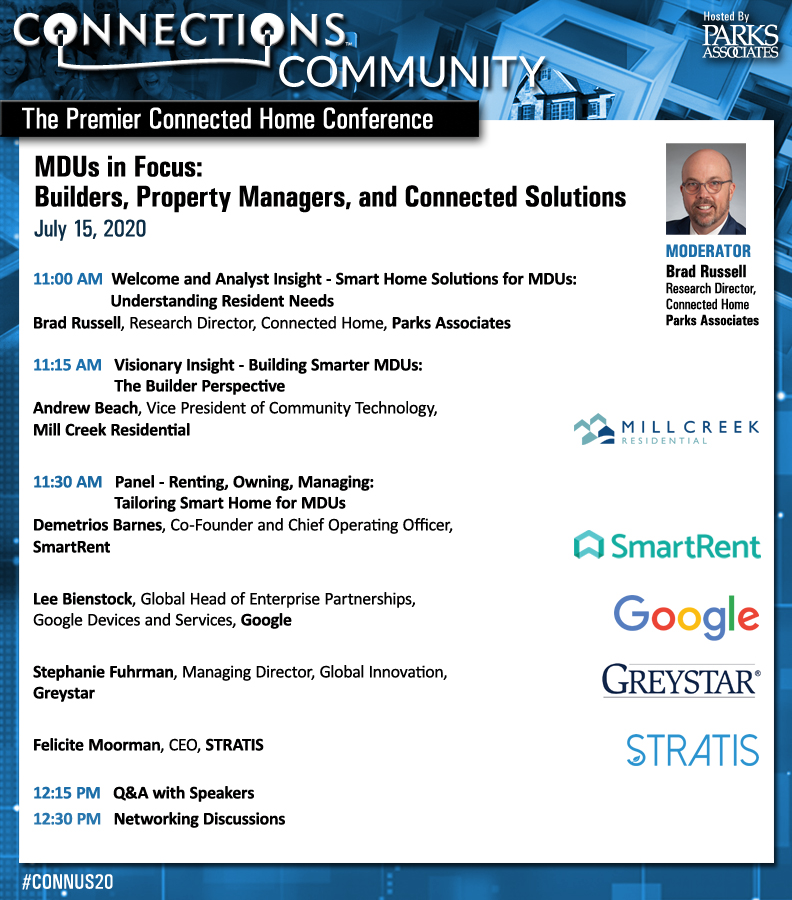 Thank you CONNECTIONS Community Sponsors: Sutherland Global Services, Alarm.com, Cox, Intellithings, Cirrent, Everise, MMB Networks, ServiceLive, Zen Ecosystems, Firedome, Inspire, PassiveBolt, Z-Wave, Aprilaire, Gadgeon, Sprosty Network, and Wi-Charge.
The CONNECTIONS™ Community will continue hosting multiple special networking events leading up to the November event, with analyst insights, interactive panels, roundtable discussions, and special networking, throughout the year.
For questions, please contact Mindi Sue Sternblitz-Rubenstein, info@parksassociates.com, 972-490-1113. To request data or an interview, contact Rosey Ulpino, rosey.ulpino@parksassociates.com,972-490-1113.
Next: Mitch Klein, Z-Wave Alliance highlights 2020 Market Growth and Impact of COVID-19
Previous: COVID-19 and the Smart Product Market

Comments
Be the first to leave a comment.
Post a Comment