New Connected Health Use Cases: Impact of COVID-19
The COVID-19 pandemic has turned the healthcare ecosystem on its head. Care providers and health systems have leaned on technology to provide much needed care to patients at home, through telehealth consultations and remote patient monitoring programs. Similarly, public health officials look to technology to help slow the spread of the virus itself, through smartphone-based contact tracing and proactive wellness monitoring, or televigilance.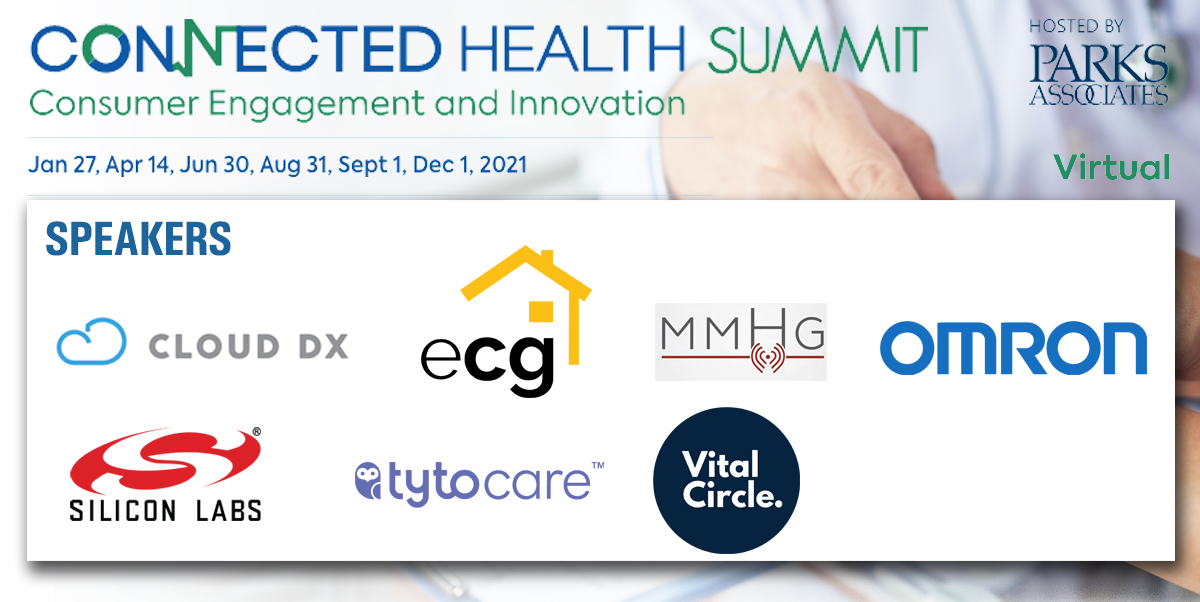 Register now to attend the first session of the Connected Health Summit,
which will be held on
Wednesday, January 27 from 12:30 p.m. - 2:30 p.m. CT.
This session will feature industr experts Dedi Gilad, CEO and Co-Founder, Tyto Care; Mark Francis, Chief Digital Health Integration Officer, Electronic Caregiver; Becky Fox, Chief Nursing Informatics Officer, Atrium Health; Founder & Chief Strategy Officer, Vital Circle; Robert Kaul, Founder and CEO, Cloud DX; Emmanuel Sambuis, Senior Director Consumer and Healthcare, Silicon Labs; Andy Atwell, Exec. Director New Business Development, Global Innovation Incubation Team, Omron Healthcare, Inc.; Dr. Raj Padwal, CEO,mmHg and will be moderated by Jennifer Kent, Vice President, Research, Parks Associates.
The COVID-19 pandemic has moved the focal point of care away from the care facility and into the home. Parks Associates data reveals that 41% of US broadband households used a telehealth service in the 12 months prior to May 2020, up from just 15% reporting such usage in May 2019.
This session addresses the role of connected health devices in the future of healthcare:
- Proactive wellness monitoring for the kids, the family, the elderly
- Illness monitoring for travel, employment, schooling
- Ongoing chronic care management
- Post-discharge monitoring
- Urgent care/acute telehealth diagnostic support
- Disease tracking/contact tracing
Next: The Future of Healthcare is Telehealth
Previous: Health: Independent Living & Smart Home

Comments
Be the first to leave a comment.
Post a Comment