New Innovations Spurring IoT Growth, but Lack of Awareness Remains Huge Obstacle
by Tom Kerber | Jul. 15, 2015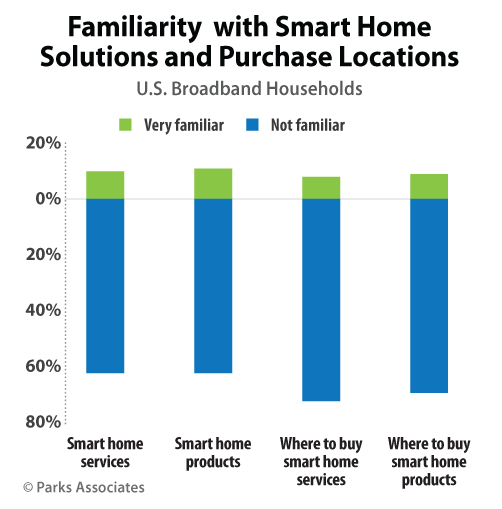 During the CONNECTIONS Conference in San Francisco this year, industry executives converged to learn about new initiatives, products, services, and trends affecting the smart home, entertainment, and IoT markets.
While the conference provided, as it does every year, a forum for a wide array of industry leaders to speak on the major issues and opportunities surrounding the connected home, it more importantly provided the audience -- an incredibly strong cross-section of executives in the connected home -- with a forum to express their views. During each panel session, the audience was polled to provide their perspective on the topic being discussed.
A few polling highlights from CONNECTIONS sessions:
The audience felt that the retail channel will be the leading channel for mass-market smart home solutions.
The audience also believed that smart home platforms will eventually need to integrate everything in the home.
Audience members generally agreed it was likely that new home networking standards would displace current leaders, despite their decade long head start.

Following this insight from CONNECTIONS, one of the interesting new product categories that Parks Associates is now watching is a multi or combination sensor product. These multi-sensor products combine cameras, two-way audio, and environmental sensors in a single product and use data analytics on the array of sensors to understand what is happening in the room where the product is placed. ADT recently announced a partnership with LG to provide a multi-sensor that will give multi-family housing residents a self-installation option that includes professional monitoring. Piper, Canary, and Withings are also offering similar products.
However, as much as the smart home market is growing and new, innovative products are being developed, lack of consumer awareness remains a primary obstacle to adoption. According to a 2014 Parks Associates survey, 62% of U.S. broadband households were not aware of smart products or smart home systems. Further exacerbating the problem is the fact that the smart home lacks a killer app. A smart home has many different use cases, and no single use case is compelling enough to drive adoption. A group of different features are necessary to drive adoption.
To read more about Parks Associates smart home and Internet of Things research, click here. You can also download a complimentary copy of the CONNECTIONS Event Summary, which features high-level overviews and research findings for each conference session.
Further Reading:
Next: Smart Devices and Home Energy Management
Previous: Connected Home Market Continues to Expand offering New Opportunities for Ecosystem Players

Comments
Be the first to leave a comment.
Post a Comment