OTT Not a Rite of Passage for Young Adults
by David Mitchel | Sep. 11, 2017
In the recently published Churn and Retention of OTT Video Services, I was really surprised to see that for those under age 35, only 83% are subscribing to an OTT video service like Netflix, Hulu, or Amazon. This indicates that while many Millennials and Generation Z seem to wear their cord cutting status like a badge of pride, it isn't something that is universal. Many Millennials and Generation Z members can live without Game or Thrones or Orange is the New Black.
While subscribing to an OTT service is pretty common for Millennials and Generation Z, it is not the king of technologies. That distinction is held by the smartphone. Recent Parks Associates research indicates that 96% of Millennials own a smartphone, and Generation Z's smartphone adoption rate is expected to be similar to that of Millennials in the years to come. For many Millennials/Gen Z, one's smartphone model serves as a status symbol, much in the way that an automobile model served as a status symbol in previous generations.
A potential troubling factor for OTT video subscriptions in the future was identified in my colleague Glenn Hower's recent report, Video Strategies for Millennials & Gen Z. Generation Z is known for having a preference for shorter form video content, which is typically less than 5 minutes in length. Much of the content on the Big 3 OTT platforms (Netflix, Hulu, and Amazon) is longer form video (30 minutes or longer). There is some shorter form present among the Big 3, but a key objective in the years to come might be a pivot for OTT services towards shorter form video content.
Given how young adults have constantly-changing tastes, if OTT providers fail to adapt to shorter form content, the share of eyeballs will drop in a key demographic. Without strong adoption from a young adult demographic, a brand loses its cool factor, and that's never a space that a technology brand should desire to occupy.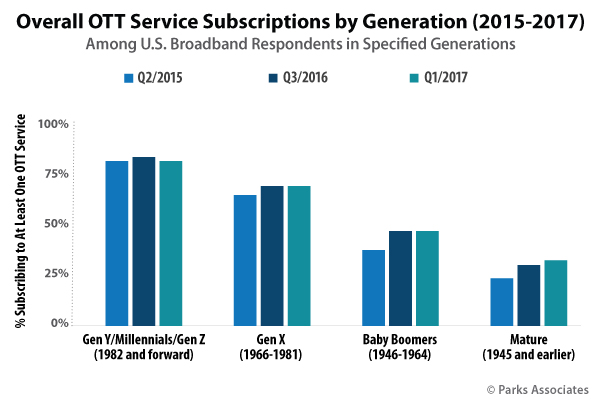 Further Reading:
Next: The Blockchain Hype Train Comes to Video Services
Previous: Walking on Dragon Eggshells: Avoiding Game of Thrones Spoilers

Comments
Be the first to leave a comment.
Post a Comment