Sinclair Purchase of RSNs Bolsters Bargaining Power with Pay-TV Providers
by Billy Nayden | May. 8, 2019
It appears the long saga of Disney's purchase of 21st Century Fox's assets has finally reached its final chapter. As a regulatory requirement of the sale, Disney must divest interests in all 22 regional sports networks (RSNs). However, finding a suitable buyer has proved more difficult than the search for Infinity Stones across Disney's popular Marvel movie franchise. After a bidding process that took nearly a year, Disney appears to have found its end game, with a party willing to add the RSNs to their metaphorical content Infinity gauntlet.
Sinclair Broadcasting Group, owner of 193 television stations across over 100 markets, is the largest owner of Fox and ABC affiliates in the US, and soon to be the owner of 22 RSNs. The company's holdings depict continued focus on live news and sports as the cornerstone of pay-TV offerings, and coincide with consumer sentiment towards this type of programming.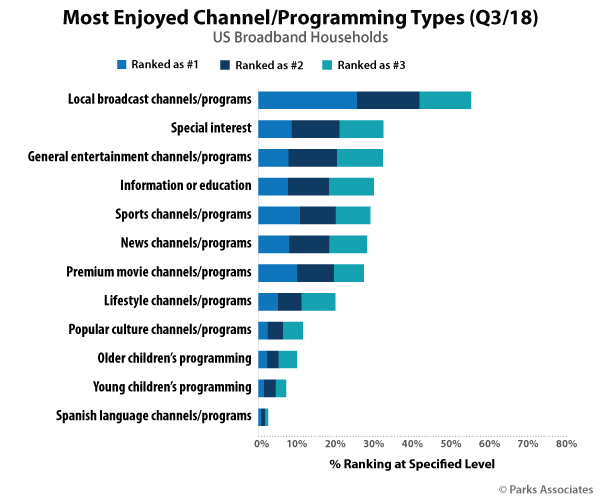 Local broadcast channels/programs and sports channels/programs represent some of the most popular types of content for consumers. Additionally, consumers are not just watching these programs frequently, but also watching live which provides a substantial incentive for advertisers.
The RSNs will be sold to Sinclair in two separate deals, with the YES Network (television home of MLB's New York Yankees, NBA's Brooklyn Nets, and MLS's New York City FC) being sold separately from the other 21 networks to a partnership of the New York Yankees, Sinclair, and Amazon for a reported $3.5 billion. Amazon's involvement could signal a future in direct-to-consumer for this network, as they do not currently own or operate any traditional TV stations, but details are murky in the early stages of this acquisition.
The other 21 networks include local rights to 42 professional sports teams (14 MLB teams, 16 NBA teams, and 12 NHL teams), and will be sold to Sinclair for a purchase price of $9.7 billion. This is likely below the price that Disney expected to get for these networks, which produced $3.8 billion in revenue in 2018 across 74 million subscribers. However, the $71 billion price tag on 21st Century Fox's assets made this deal important for Disney to move forward with its expanded content offering.
For Sinclair, this significantly boosts its current sports offering, which already includes Marquee Sports Network (a joint venture with MLB's Chicago Cubs), Tennis Channel, Stadium, Ring of Honor Wrestling, and a number of high school sports offerings. With a large footprint in both news and sports, Sinclair gains more leverage with pay-TV providers. Considering the struggles many RSNs have faced in the past few years with carriage agreements with major providers, the backing of an entity like Sinclair supplies much needed leverage with providers amidst declining pay-TV subscriptions.
Sinclair has reasserted their place as one of the leaders in live content with this purchase, signaling a renewed focus on premium sports programming, and reinforcing the prominent place that live sports and news play in the future of pay-TV, especially on the local level.
Further Reading:
Next: What's Holding Back Adoption of Gigabit Speed Broadband?
Previous: Importance of Content in SVOD Services

Comments
Be the first to leave a comment.
Post a Comment