Smart Lighting: Enhancing Smart Home Use Cases
Smart lighting has yet to capture the imagination of most consumers, in part due to a lack of familiarity and in part due to the industry's poor use case explanations. Significant opportunity still exists in the smart lighting category.

Smart Lighting Devices
Smart lighting devices belong in the family of smart home energy devices and are comprised of three categories – smart light bulbs, smart in-wall switches, and smart plugs/adapter modules. Unlike traditional lighting, these devices can communicate and be controlled wirelessly. Smart lighting devices are deployed both indoors and outdoors; however, in residential applications, smart lighting devices are typically found inside the home.
Smart Light Bulbs: A smart light bulb is a wirelessly connected, energy-efficient LED light bulb that can be remotely controlled, scheduled, or triggered by other smart devices. Some smart lightbulbs are dimmable, and some can shift colors among shades of white or the whole color spectrum.
Smart In-Wall Switches: A smart in-wall switch replaces a traditional in-wall light switch with one that is connected to the internet wirelessly and can be remotely controlled, scheduled, or triggered by other devices.
Smart Plugs/Adapter Modules: A smart plug is a portable device that plugs into a wall outlet and wirelessly connects to the internet. A smart plug can be used to remotely control or schedule any appliance, lamp, or electronic device that is plugged into it. Some smart plugs can measure energy usage and detect appliance faults or fire risks.
Until recently, lighting was considered a functional utility, barring aesthetic lighting design typically contained in high-end homes. The smart lighting devices available today – light bulbs, outlets/switches, and plugs/adapter modules – provide consumers with the opportunity to enhance use cases for home ambiance and entertainment experiences, task-specific lighting, security and safety, energy savings, and even the promise of improved mood and health. For example, for anyone living alone – but particularly for seniors – the ability to turn lights on/off via voice, controller, or smartphone offers peace of mind and real safety enhancement.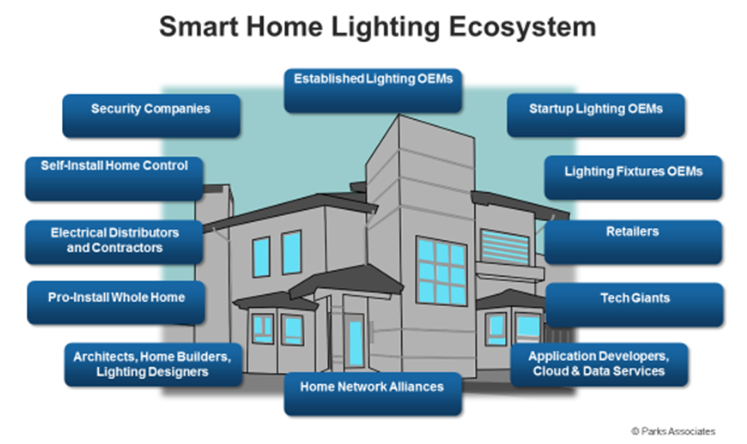 Despite these benefits and a lower price point than many other smart home devices, consumers remain relatively unfamiliar with smart lighting devices. That said, the cost of a smart light bulb compared to a basic LED light bulb may be as high as 10:1. Brands are responding in various ways (bundling with other smart devices, channel expansion, etc.), but growth in all smart lighting categories remains relatively slow.
There is not a single brand that dominates the market share – the market is fairly fragmented across all smart lighting categories. However, name recognition from brands like Philips Hue (light bulbs), Leviton (in-wall switches), and Amazon (plugs/adapter modules) assists in increasing consumer awareness about smart lighting products devices.
The good news is that once consumers own a smart lighting device, they report high levels of reliability and satisfaction and are likely to own/purchase multiple devices. Currently, 21% of US broadband households now own a smart lighting product, including:
Smart light bulbs
Smart lighting control systems
Smart in-wall outlet/switch or dimmer
Smart plugs/adapter modules (frequently used with lamps)
This category of devices contains some of the least expensive smart home devices on market: smart light bulbs and plugs. These are also devices that are purchased in multiples for use throughout the home. This represents an opportunity to become an add-on product, for cross-promotion opportunities with other device makers.
Consumers show a relatively strong interest in enhanced security services built into smart lighting with almost half of owners and Intenders finding the service "very valuable." The ability to provide safety and security as well as peace of mind has always been a driving force for smart home device purchases. By enabling built-in motion sensors in each room to act as a security system, smart lighting manufacturers can broaden the appeal of these devices to a large base of customers.
Lighting applications have a broad range of use cases. New smart lighting systems promise to renew the value of home lighting and expand the use cases for a variety of lighting experiences. Today's smart light systems enhance use cases for home ambiance and entertainment experiences, task-specific lighting, security and safety, energy savings, and improved mood and health. Variable white bulbs and color LEDs have opened up more than 16 million color options. Remote access and control applications enable a variety of features for monitoring, scheduling, and automating lights into scenes with other smart home devices. Lighting applications can be enhanced with data on time of day, home temperature, and weather conditions.
Smart lighting systems may also include audio or motion sensors which, being positioned throughout the home, enable them to gather occupancy and activity data that can be leveraged for other applications. These applications may involve monitoring of security sensors and alarms to relay alerts to the user, or monitoring the activities of elders, children, and pets.
Next: Smart Home Solutions Attract and Retain Apartment Residents
Previous: Enabling Intelligent Home Automation: Creating the Vision of our Future

Comments
Be the first to leave a comment.
Post a Comment