The Original Content Bandwagon
by Patrice Samuels | May. 29, 2012
Written by Patrice Samuels, Research Analyst
A growing number of online video services are investing to produce and offer original and exclusive content - a trend which emerged out of the increasingly complex and costly process of securing content licenses. As video service providers attempt to increase content accessibility on various devices and to expand services into various markets, licensing popular content has become an even greater challenge.
Netflix ventured into original content in February, soon after Starz refused to renew its contract. Hulu also debuted its first scripted original series, titled "Battleground," in February. The company already has exclusive rights to Morgan Spurlock's documentary series, "A Day in the Life," and has announced plans to invest another $500 million on original content this year. Yahoo features a number of original series in their program catalogs, and YouTube announced plans in late 2011 to launch 100 new original channels from YouTube stars and Hollywood A-List celebrities.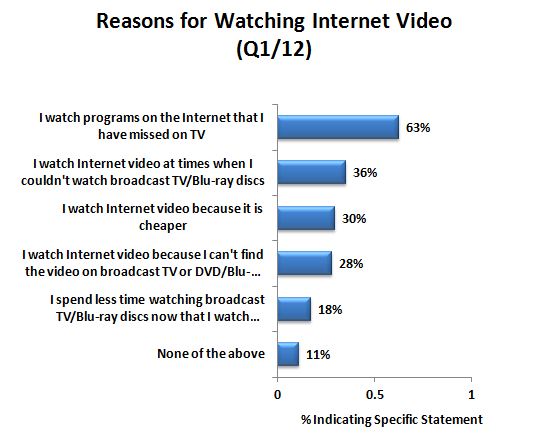 The benefits of original content production will go even further to establish online video sites as a valuable source for video as opposed to a mere substitute for television. Parks Associates' research for the upcoming Online Entertainment: The New and the Noteworthy indicates that the majority of broadband households still use online video as a source of catch-up TV. A strategy using original content may be effective for subscription and free ad-supported services as the content will need to gain popularity before consumers are willing to pay to obtain it. However, as premium channels such as HBO can confirm, a successful original series can attract subscribers, reduce churn, and provide strong differentiation.
Next: Takeaways from CONNECTIONS 2012: Keys to Success in Personal Cloud Services
Previous: Update from The Cable Show 2012: Coolest Tech at the Show

Comments
Be the first to leave a comment.
Post a Comment