VP of Product Management, Xfinity Home, Comcast, Neal Foster Talks about Consumer Awareness, Consumer Fears and Drivers for Adoption of Connected Home Products and Services
Neal Foster, Vice President of Product Management, Xfinity Home, Comcast, provided insights to Parks Associates' analyst team regarding adoption of connected home good and services, increasing consumer awareness of these connected good and services and what consumers fear most with regards to adoption of these goods and services.
Neal will participate on the session, Smart Home & Interoperability: Expanding Ease of Use, at Parks Associates' CONNECTIONS Summit: Engaging Consumers: IoT and the Smart Home at CES, January 9, in Las Vegas. The session will be held Tuesday, at 2 PM, and will also feature the following participants:
Rob Conant, CEO, Cirrent
Rob Munin, CEO, LUX Products Corp
Peter Radsliff, Vice President Marketing, Prodea Systems, Inc.
Tobin Richardson, President & CEO, Zigbee Alliance
Matthew Swatsky, Vice-President-Residential Mid-Market Business, Lutron Electronics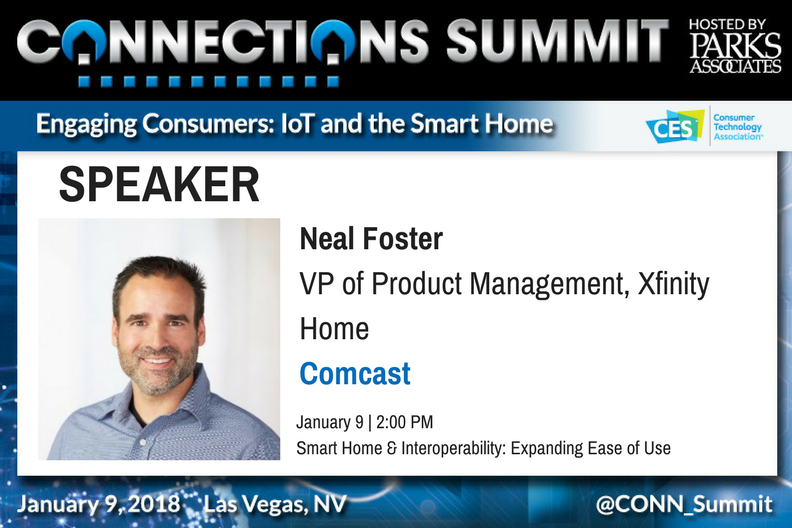 Q. What can companies do to increase consumer awareness of smart home products and services?
A. The most effective approach to building awareness is very basic but very challenging –
consumers need to experience the services, features or products first-hand. As internet and TV providers, Comcast has a unique opportunity to introduce households to smart home products in a very intimate way. Our typical new Xfinity customer relationship starts with a household wanting to upgrade their home with blazing fast high-speed data coupled with entertaining content. Many of the smart home devices connect to the internet, our core service, so we are able to engage with our customers in unique ways, for instance:
We have technicians that go to the home to install and introduce the household to the Xfinity platform.
We can identify the connected devices within the home and tailor recommendations on how you could use them more effectively.
Coupled with the X1 platform and voice remote, it's easy to learn more about what the smart home can do.
We are also investing in building more retail stores across the country which include experiential displays, allowing consumers to use and play with our many Xfinity services (internet, TV, mobile and home security and home automation).
All in all, we believe that consumers need to see and feel the smart home in a way that is meaningful to them.
Q. What do consumers fear most when adopting smart home products and services?
A. I believe we are in the third phase of consumer's smart home adoption. Phase 1 delivered custom integrated solutions offered at high cost. Phase 2 brought a number of new innovative entrants into the smart home industry (mostly within the startup community) bringing individual smart home products to market at lower costs. Phase 3 is where we are now: consolidation of the phase 2 product companies, further cost reductions, and the maturity of standards that allow for the integration of multiple products to enable a smart home.
In this 3rd phase, consumers that are adopting smart home products are concerned with picking the wrong solution or technology. The wrong technology choice could lead to added expense and possibly having to replace products that require installation within the home. At Comcast, we work hard to ensure future compatibility and that the connected devices within a home work together with our platform. With our Works with XFINITY strategy, we have and continue to develop relationships with many smart home device makers so our Xfinity platform can easily manage and control these third-party devices.
Q. Name the three top drivers for adoption of connected home products and services?
A. There are three main drivers that can help increase the adoption of connected home products and services: increased consumer awareness, a more integrated ecosystem and lower implementation costs.
Most consumers are aware of the smart home but do not understand why they need it or how to create it. They also believe that the costs are high and the systems are too complex to operate. The Works with Xfinity program helps to dispel these myths. Our ecosystem of partners, who make the latest connected home devices, make it easy for consumers to get the smart home device they need and integrate it into the Xfinity platform. We are working to deliver on the promise of improved convenience, enabling our customers to save time and money while providing increase peace of mind and protection.
For more information on CONNECTIONS Summit at CES, visit: www.connectionssummit.com.
Next: CONNECTIONS Summit: Speaker Insights from Bernd Grohmann, Executive VP, EQ-3 AG
Previous: Making the Connection with Chamberlain's Director of Emerging Business, Martin Heckmann

Comments
Be the first to leave a comment.
Post a Comment