34% of U.S. Broadband Households Access Music via Their Mobile Phone
Revenue growth in digital music dropped from 91% in 2006 to 6% in 2010. Parks Associates' new report Digital Music Services: Trends and Outlook evaluates consumers' growing demand for music everywhere solutions and industry's response with new business models including enhanced discovery engines, multidevice access, music-centric social networking tools, and digital locker options like those being launched by Amazon, Apple, and Google.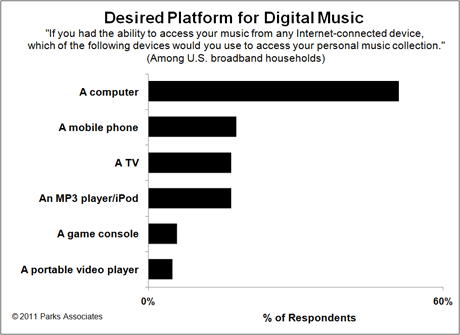 While over 50% of U.S. broadband households prefer the computer as their digital music access point, proliferation of smart mobile and connected CE and new cloud-based delivery models are expanding music services into more unique consumer devices and environments. In 2010, 34% of U.S. broadband consumers were using their mobile phone as a music player, up from 9% in 2007. In response, digital music service companies such as 7Digital, Pandora, and Spotify have been proactive in forming OEM partnerships to make their services accessible through more devices.
For years, the music industry concentrated on piracy as the biggest threat, but that focus is changing, and consumers are used to the idea of 'free' music, so service providers need to add something of value beyond the music itself.
Parks Associates' new report examines how key players from transactional vendors and streaming music services to mobile operators and consumer electronics OEMs are using digital music to generate revenues, increase the value of their product lines, and promote stickiness within their subscriber bases. As of 2010, the combined user base of Pandora, Spotify, Last.fm, and Deezer topped 100 million worldwide, with Pandora alone accounting for over 71 million users.

Next: Facebook CEO Wants Kids Under 13 to be Allowed Access to Social Networking Sites
Previous: Tech Support Industry Webcast Will Examine Opportunities in $9 Billion Market

Comments
Be the first to leave a comment.
Post a Comment