Connected Cars: API Integration and Addon Features - InstallerNet Insights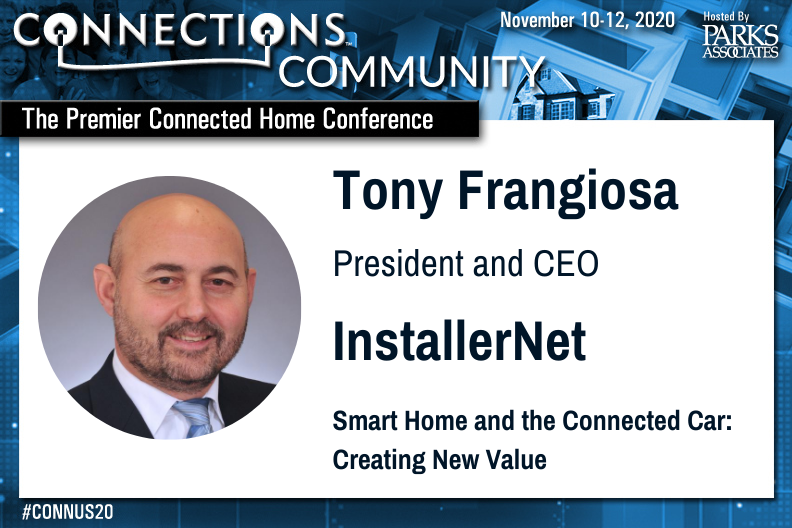 After a recent CONNECTIONS Community panel discussion on the smart home and the connected car, Tony Frangiosa, President and CEO, InstallerNet, followed up with us with regarding our audience's questions on API integration, addon features, Tesla's role in innovation, and more. Here are his thoughts:
1. Most new cars have connectivity to the auto makers. Why can't car companies offer an API for integration with connected home apps? An immediate benefit would be the integration of an EVSE with car battery information.
Eventually there will most likely be an API for each car that will allow the OE manufacturer to verify authenticated users and then determine what read/write controls they will have. A dealership will be able to get diagnostic information or trigger software uploads to the vehicle, while the driver may have an APP that will allow them to open the doors or start the vehicle. Other ECO system partners such as insurance companies or home security providers may have users rights to gather driver profile information or allow control of home lighting or temperature settings. The biggest obstacle for creating an API for every car will be designing the business model that supports their revenue streams while maintaining differentiation amongst competitors.
2. Current cars (excepted Tesla's) have poorly integrated infotainment and smart car systems, with functions separated into islands that do not talk to communicate well. How will this affect your perspectives on communicating cars?
The vehicle is already designed with separate and independent networks to support for example infotainment and safety features like collision avoidance or automatic brake systems. There will always be some level of separation from hi-security systems that control the operation of the vehicle from reading for example information like engine temperature. A controlled access API will help facilitate proper access to proper users.
3. Will consumers really understand these addon features easily?
Consumers will understand the results or the value that connected car features will bring without having to understand the technology that makes it work. Some features will be as simple as push-to-talk to another driver in front of you, where other features will be more AI like that may automatically turn on the lights or set the temperature in the home as you approach it.
4. How big of an impact will Tesla continue to have on innovation?
Tesla has raised the bar for automotive innovative technology. It will be interesting to see how other legacy brand manufacturers will react, Recently GM announced a very large investment and plan for becoming an electric vehicle leader while Tesla is now contemplating becoming a tier 1 for other auto manufacturers. If they can become the "Intel inside" powered by Tesla solution for other brands then they will continue to have an impact as the dominant player.
5. What about charging stations for EVs?
Although electric vehicles still represent a small overall number of vehicles on the road today, once of the challenges will be to grow the infrastructure to support the business. Imagine a day when there are more charging stations than gas stations.
6. On voice assistants in the car, where will the car OEM branded voice solution fit in the future in combination with Amazon's, Apple's, Google's and other voice assistants? Will users be able to easily know which voice assistant to use if there are multiple assistants in the car?
As popular as voice assistance has been in the home, the vehicle should surpass that level of use given the fact that voice control is better suited in a car when you are trying to keep your hands on the wheel and eyes on the road. Vehicle manufacturers will follow the same approach that they did with navigation. Instead of trying to keep up with the smartphone technology and its APPs, they will simply leverage integration services like they did with Apple CarPlay or Android Auto. The automobile manufacturer, with its long lead time production, simply can not compete with the fast-changing technology and innovation that other strong brands represent.
7. What is the biggest challenge integrating these different systems?
Integrating or making a solution compatible with the 280,000 cars already on the road, which is where our company InstallerNet comes in. We can retrofit installed solutions across our 2,000 plus location nationwide. With the average age of the vehicle on the road being 11 ½ years old, the consumer demand for the latest technology will not allow them to afford to buy a new car like they do with a smartphone. With only about 15M new cars sold each year it would take 18 years.
Next: COVID-19 Impact on The Smart Home Experience - Insights from Sutherland
Previous: Increased Adoption of Residential Security Systems and Services

Comments
Tony Frangiosa wrote

Let me know if I can be of further assistance to anyone regarding this topic. I can be reached at tonyf@installernet.com

on Tue Sep 1 13:47:57 2020
Post a Comment