Barnes & Noble Expands NOOK Color Reading Experience with the Most Requested Tablet Features
Barnes & Noble, Inc., the world's largest bookseller, announced that it added significant new features and content to the NOOK Color Reader's Tablet, making what has already been acclaimed as the best reading device on the market, the best tablet value on the market at just $249. With a major update to its bestselling device, Barnes & Noble is delivering more of what NOOK Color customers want: shopping a broad collection of popular apps, staying connected with full-featured, built-in email and an enhanced Web experience. In addition, NOOK Color's reading experience gets even better with enhanced books featuring in-page video, new interactivity in digital children's picture books, and now over 150 interactive magazines and newspapers.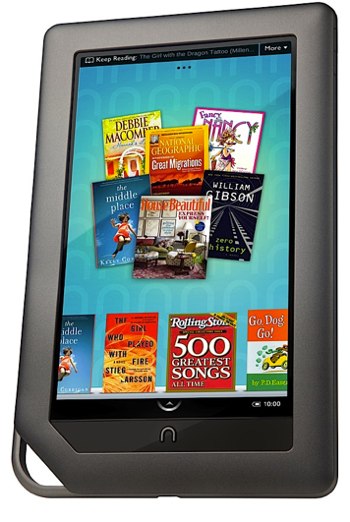 Enjoy great games like Angry Birds, Uno and More Brain Exercise, and stay up-to-date on news and weather with Pulse and My-Cast. Learn new languages with Lonely Planet Phrasebooks apps, and try new recipes with the app from Epicurious. Keep sharp with pre-loaded crossword puzzles, chess and Sudoku. Stay organized with calendar apps, relax with streaming music from Pandora® Internet Radio and spark creativity in children with Drawing Pad and more fun apps made just for kids like Sandra Boynton's Going to Bed Book.
NOOK Color customers can easily discover and download apps in seconds from Shop on NOOK Color, so they can browse complementary apps alongside books, magazines and other content. Customers can explore a growing collection of more than 125 favorite NOOK Apps from leading third-party developers and content providers.
NOOK Color now helps customers stay connected with the full-featured free NOOK Email application built in to organize Web mail accounts in one inbox. Given NOOK Color's compact design that fits easily into a purse, jacket or bag, email was one of the most-requested features requested by customers. Connect to Wi-Fi to check and send emails with a full-screen virtual keyboard, making it easier than ever to stay in touch while on the go. NOOK Email works across the top Web mail services including Yahoo! Mail, Gmail™, AOL and Hotmail.
For more information about these new features, click here.
Next: Android Market Apps to Surpass Apple App Store
Previous: Sharp ships largest consumer-accessible LCD HDTV

Comments
Be the first to leave a comment.
Post a Comment