CES 2018: Sleep Tech Explosion
If you spent any time in the Sands Convention Center—part of CES 2018's Tech West exhibition—you couldn't miss the explosion of companies offering sleep solutions this year. From startups to established companies like Philips and Nokia, everyone wants to capture a piece of this market. Form factors on display include smart mattresses, sensor strips that slip underneath sheets, smart pillows, smart sensors that clip on pillows, smart sensors that clip on clothes, bed-side monitors that detect sleep, and a range of headsets.
Parks Associates data reveals that 45% of consumers get insufficient sleep; more than 25% severely lack sleep. Sleep tracking features of smart watches and fitness trackers—the most commonly adopted sleep tech solution on market currently—are raising consumer awareness about lack of sleep. Eighteen percent of consumers in 2017 reported concern that their health will worsen due to a lack of quality sleep—up from 16% in 2016. Still, once a consumer understands their sleep patterns—what, then, to do about it?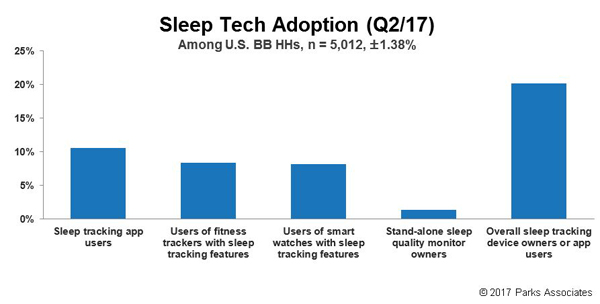 The next phase of sleep tech will take much greater strides to help consumers actually improve sleep, through integration with other products and more comprehensive data sources. Products showcased can detect room temperature, humidity, noise levels, and room darkness, or incorporate that data from other connected home products. Strangely, many companies are taking a proprietary ecosystem approach, pulling in wide sources of data only from their own branded devices—yet, consumers are unlikely to acquire sleep tracking devices, smart lights, smart thermostats and other connected home devices all from the same company. If the sleep tech market can learn anything from the larger smart home market it's that third-party integration is where complicated scene-based use cases are made possible. By next CES I expect sleep-tech providers that have partnered to be the ones left standing.
Further Reading:
Next: The Ambient Assisted Living Market is Improving with Age
Previous: 2018: an Exciting Year for Telehealth

Comments
Be the first to leave a comment.
Post a Comment