COVID-19 Drives Demand for Independent Living Solutions
by Amanda Kung | Dec. 3, 2020
COVID-19 cast a bright light on the vulnerability of the senior population and senior living facilities. According to CDC, as of November 2020, 80% of Americans who have died of COVID-19 were age 65 or older, while the senior population only makes up 16% of the overall US population. Moreover, 40% of deaths occurred among nursing home residents. As a result of COVID-19 and its associated pressures, seniors and their loved ones have increasingly turned to technology for everyday needs. As technology adoption by seniors continues to climb and nursing homes are seen as infectious disease hotspots, there is a growing interest in independent living systems among seniors and caregivers.
Independent living solutions allow seniors to live independently with access to assistance when needed. These systems can sense when a person is okay and when they might need help and can call for help when necessary. Some do not require the user to wear anything and instead utilize sensors in the home to monitor activities to identify signs of a health decline or accident event. Key features include: fall detection; the ability to detect fire, water, or gas leaks; monitoring by a professional service that contacts first responders if needed; alerts if the stove is left on or doors are left unlocked; security and access control; and medication reminders.
The myth that seniors are not tech-adept is no longer accurate, especially among the younger senior population. Parks Associates research finds that smartphone adoption has increased from 43% in 2015 to 79% in 2020 among ages 65-74, from 30% to 69% among ages 75-79, and from 21% to 63% among ages 80 or older. The high smartphone adoption among all seniors has helped them adopt new services during COVID-19. Senior adoption of smartphones and other connected technologies indicates a readiness and a rising expectation for technology-enabled solutions that support independent living. Therefore, service providers will need to be prepared for more tech-savvy seniors, who expect more control over their own independent living solution.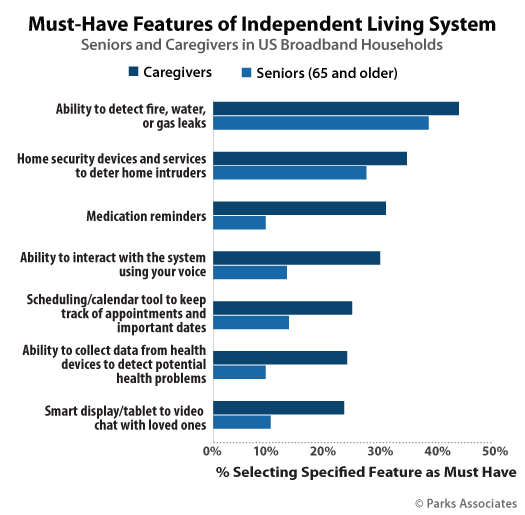 According to Parks Associates research, independent living is a top priority for the majority of seniors, with those rating it important increasing from 87% in Q2 2019 to 91% in Q2 2020, while almost half of caregivers find independent living solutions appealing. Parks Associates research also finds that caregivers and seniors report different priorities in independent living systems. Seniors strongly emphasize emergency features, such as detecting smoke and gas or access to an emergency pendant, which points toward pent-up demand for a solution designed for senior comfort and control.
In contrast, caregivers are more likely than seniors to feel that medical features, such as medication reminders and vital sign collection, are must-have features of an independent living system. Solution providers must be prepared to balance the needs and demands of these dual purchase decision makers segments. At first, providers may optimize messaging around safety and security, since both use cases are highest for both seniors and caregivers. Solution providers with medical features can benefit from marketing more strongly to family caregivers.
COVID-19 has resulted in a greater willingness to try and adopt new technology among seniors, which presents opportunities for many players in the market, such as independent living solution providers. As caregivers become more concerned about disease and seniors become more tech-savvy, independent living solutions provide a good resolution for senior independent living, allowing for peace of mind for both parties.
These concerns and desires will likely continue post-pandemic. For a deeper look at the independent living market, please check out Parks Associates' COVID-19: Impact on Seniors, Caregivers, and Independent Living Solutions.
Next: ADT + Google Partnership Details Revealed
Previous: CONNECTIONS™ 2021 Call for Papers is Now Open

Comments
Be the first to leave a comment.
Post a Comment