Does Being Fit Induce Online Music Subscriptions?
by David Mitchel | Jan. 25, 2017
The beginning of a new year is when New Year's resolutions are in full force. One place where New Year's resolutions are easily observable is the gym, as getting into better shape is often a top resolution. While the gym is not the only avenue for achieving fitness goals, it is a pretty common location to begin a fitness journey.
When someone walks into a gym, one of the first things that is apparent is the music playing over the gym's speakers. Despite the fact that free music is offered at many gyms, many gym goers are wearing headphones or earbuds to listen to their own preferred audio. Fitness in a gym setting tends to be an individual experience, with the exception of group fitness classes. Additionally, music discovery and consumption are also highly personal activities. It makes sense that these two personal activities would converge.
From my own casual observation as a long-time gym-goer and practitioner of an active lifestyle, I have noticed that many of the headphone/earbud wearers at the gym happen to be physically fit gym attendees. I pondered the existence of a potential relationship between online music subscriptions and fitness. For the recently published 360 View: Digital Media and Connected Consumers, we examined subscription to online music services by ownership of a fitness tracker. The working hypothesis here was that the ownership of a fitness tracker showed a more committed approach to achieving fitness goals.
Some headphone/earbud wearers engaged in fitness activities will opt to get audio from a free streaming service: 48% of fitness tracker owners have a subscription to an online music service, as compared to just 31% of non-tracker owners.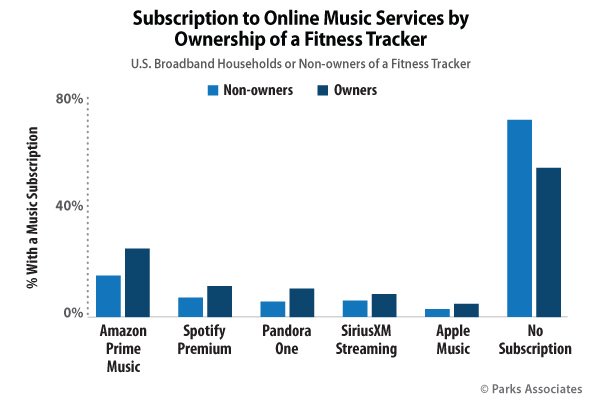 There are a few potential benefits that would induce connected fitness enthusiasts to spend the money to obtain an audio subscription:
On-demand access: When someone needs to hear a specific song on their third rep of bicep curls or the 20-minute mark while running on the treadmill, only a subscription service will make this happen.
Playlist curation: For those entering a gym with a workout plan in mind, subscription services enable users to put together a "workout mix" that can help motivate them through the challenges that the workout entails.
More content: Subscription services often offer 20 to 30 million more audio assets than free services, justifying the subscription price. If someone wants content and can't get it for free, a certain percentage will see value in the proposition of paying for that content.

Further Reading:
Next: OTT Video Services: Entertainment for a New Generation
Previous: Netflix and Cheer? Streaming Video Giant Leverages Holiday Nostalgia

Comments
Be the first to leave a comment.
Post a Comment