Energy Storage and the Grid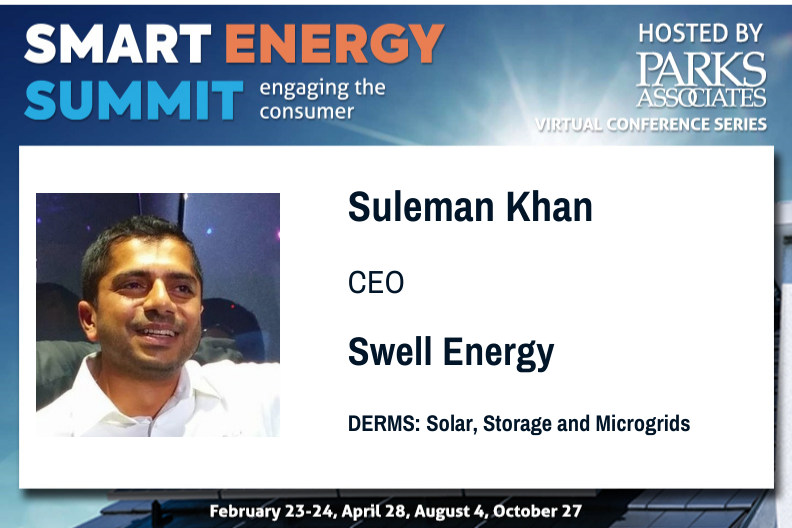 Parks Associates' upcoming virtual Smart Energy Summit offers a unique combination of industry expertise and extensive consumer research and analysis, ensuring sponsors are in front of a high-level audience unavailable anywhere else within this market.
Ahead of the summit, Suleman Khan, CEO of Swell Energy and a speaker on the interactive panel for DERMS: Solar, Storage, and Microgrids, shared with us his insights on energy in the smart home.
What new opportunities have been created for smart home and energy players serving consumers in new ways?
Virtual Power Plants (VPPs) offer a compelling way for homeowners and utilities to collectively meet today's shifting energy needs by unlocking the potential of solar energy stored within a home battery that can be used to address individual and grid needs. While utilities look to energy storage for increased reliability in their portfolios, these resources are also catching the attention of Wall Street as a new investment opportunity. At the height of the pandemic's economic recession, the financial resilience of renewables was celebrated as "largely uncorrelated to oil and natural-gas markets, which further strengthen[s] their overall appeal," and they continue to be a haven for investments.
In September 2020, the Federal Energy Regulatory Commission (FERC) released a landmark executive order FERC 2222 to enable distributed energy resource (DER) aggregators to bid into wholesale electric markets. It imposed a deadline of June 2021 for local grid operators to submit a compliance filing and plan. The ability of DERs to compete in wholesale markets combined with their increased prevalence and affordability sets the stage for an exciting expansion period for these resources.
Today, Swell Energy's VPPs with investor-owned utilities have a solar and battery-centric approach. But, these VPPs will also be able to dispatch electric vehicles, thermostats and any smart energy technology that can guarantee power control. In the future this could include televisions and refrigerators as smart devices and smart homes become more common. By enabling these devices to turn their energy use down, VPP technologies can tap into the value potential of the over 29 million smart devices in American homes.
What new business models and offerings are being deployed in the residential space?
At a basic level, solar-powered home batteries supply the homeowner with reliable, low-cost onsite energy and backup power in the event of a power outage. When there are enough batteries in a community or region they can be bundled together to serve both on site consumer load and the local grid's specific needs. Utility payments to rely on these distributed energy resources helps reduce the cost for homeowners to increasingly attractive levels.
Consumer interest and demand for distributed energy storage at the residential level is reaching critical mass. In 2018, utilities reported 234 MW of existing small-scale storage power capacity in the United States. 31% was installed in the residential sector, which makes up 72 MW of residential energy storage.
VPPs are helping coordinate the timing and certainty of deploying new forms of clean energy. Fortifying the grid with residential solar power, battery storage, and virtual power plants reduces the need to build more fossil fuel resources, which accelerates our transition to a low-carbon economy and cleaner air. Swell is serving a central function within these VPPs and is branching its VPP business model in various ways with key energy markets.
Swell has been commissioned by utilities in three states to establish over 200 MWh of dispatchable energy capacity through the construction and aggregation of approximately 14,000 solar energy generation and storage systems. Over the next twenty years, distributed energy systems in Swell's current VPP portfolio are expected to generate over 3,000 GWh of clean solar energy, with customers potentially storing 1,000 GWh for later use, and dispatching over 200 GWh of this stored solar energy during events when the utility calls on the VPP for capacity.
For example, Swell Energy has been contracted by Hawaiian Electric Company for the delivery of grid services through an aggregated VPP on Oahu, Maui and Hawaii islands. Swell will deploy 25 MW of behind-the-meter solar paired with 80 MW of home batteries to approximately 6,000 residential customers, providing 100 MWh of stored energy. The VPP will augment HECO's energy supply by relieving the grid of excess renewable energy as production spikes and absorbing excess wind when needed, thereby reducing peak demand and providing 24/7 fast frequency response. The renewable energy storage systems will collectively respond to grid needs dynamically, moment-to-moment.
How is energy storage helping to manage the grid?
By orchestrating thousands of distributed energy resources like residential solar and energy storage systems, VPPs can reduce grid stress and the need for building new costly and carbon-intensive energy infrastructure. VPPs can also be strategically deployed to take older peaker plants offline. As grids and consumer demands change, VPPs can be a savvy development tool by local grid operators to invest in the evolving grid.
Utilities can place distributed energy where it is needed most on the grid. One of the nation's largest contingencies of energy storage is in California and was created in response to a grid service need—37% of the state's existing battery storage power capacity was procured in response to the Aliso Canyon Natural Gas Storage Facility leak in October 2015. The storage capacity is helping utilities address the resulting reliability risks from constraints on the natural gas supply. VPPs can also help balance resources, particularly intermittent renewable resources, therefore expanding their application and reliability. In Hawaii, Swell's VPP will go a step further and conduct fast frequency response to provide supply and demand corrections in real time.
Areas with new home development and growing demand can deploy a VPP to service new homes in the territory, lowering demand on the central grid—especially during times of high demand like heat waves or winter storms. This load management service reduces the frequency of peak stress incidents and supports surrounding transmission and distribution grid infrastructure by preventing equipment overload.
The Smart Energy Summit agenda features leaders from utilities, state and national regulators, telecom and security companies, retailers, and OEMs. The summit will be held virtually on February 23-24, April 28, August 4, and October 27. Register now!
Next: Smart Energy Summit continues with "MDUs: Leveraging Proptech for Smart Energy Management"
Previous: American Water Homeowner Services to Sponsor Parks Associates Smart Energy Summit

Comments
Be the first to leave a comment.
Post a Comment