Increased Adoption of Residential Security Systems and Services
Our new research, Residential Security: Consumer Insights 2020, finds security system adoption, after holding steady at 25-28% for over five years, jumped up to 33% of US broadband households at the end of 2019, up from 28% in 2019. This growth comes as consumers have more options, including DIY and ad hoc monitoring through smart home devices.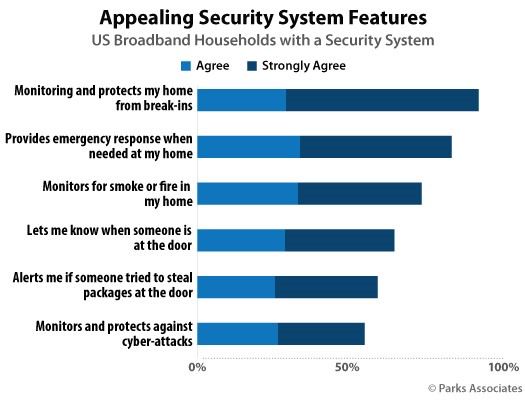 Year-end 2019 represented a big win for the residential security industry, but 2020 will bring new challenges to the security industry as the COVID-19 pandemic is rapidly impacting the economy and consumer attitudes and behaviors. Consumer demand for safety and security has long been considered a persistent driver through any market conditions, but the Great Recession showed home security is not recession-proof. Security firms need to continue to innovate and to pivot messaging to emphasize DIY options and family safety to ensure consumers see the essential value in their solutions.
Our latest tracking data shows that finds three out of four consumers say they are "cost conscious" as a result of COVID-19, so many households are already reassessing household services to reduce expenses. At the end of 2019, 16% of US broadband households were planning to purchase a security-related solution in the next 12 months. Current conditions will impact purchase behavior, but safety and security remain top-of-mind for households—whether it be through a professionally monitored solution or a networked camera, consumers want to feel that sense of security.
Join the CONNECTIONS Community where you can network with key industry leaders in the connected home and IoT industries. The virtual conference sessions focus on technology innovations, consumer research on adoption and trends, product and service forecasts, and evaluation of new business strategies, partnerships, monetization opportunities, and value-added service design.
Next: Connected Cars: API Integration and Addon Features - InstallerNet Insights
Previous: Mitch Klein, Z-Wave Alliance highlights 2020 Market Growth and Impact of COVID-19

Comments
Be the first to leave a comment.
Post a Comment