NVIDIA GTC 2021 implications on Smart Home Products
NVIDIA is currently holding its GPU Tech Conference 2021, featuring over 1,500 sessions on AI innovations and applications. The keynote yesterday celebrated company achievements as CEO Jensen Huang describes NVIDIA's work "bringing AI from computer science to computer products:"
NVIDA GPUs developed for gaming now are also being used for modeling major infrastructure and engineering projects
NVIDA DGX technology is used in AI research applications including DNA sampling and pharmaceutical research
New NVIDA Jarvis natural language processing launched with conferencing tool Maxine
New NVIDIA Drive Sim and ORIN central computer launched for autonomous vehicles
NVIDIA's new Aerial A100 AI-on-5G for the edge may be particularly impactful for connected consumer markets. The current focus of this tech may be more industrial and enterprise in scale, but the rise of AI-on-5G – and edge computing generally – promises to reduce latency for mobile streaming and gaming and to enhance privacy and data security for devices throughout the connected home.
Video-based analytics are among the top applications of AI in the smart home. The GTC conference highlights the potential for video analytics in a session about a food company in Saudi Arabia. The pizza-tech innovators at Maestro Pizza are using smart camera and edge computing for automated visual product quality inspections before the pies go out to customers. This exact use of video analytics may not come into our smart homes as we flex our pandemic-honed baking skills, but certainly the smart home consumer is excited to utilize the increasing capability of video analytics in a number of (generally non-pizza) use cases. Parks Associates data shows that consumers intending to purchase a networked camera or video doorbell find AI-based product features important when making their purchase decision. 85% rate the ability of a video device to detect the presence of strangers near the home "important", for instance, while 65% rated the feature "very important".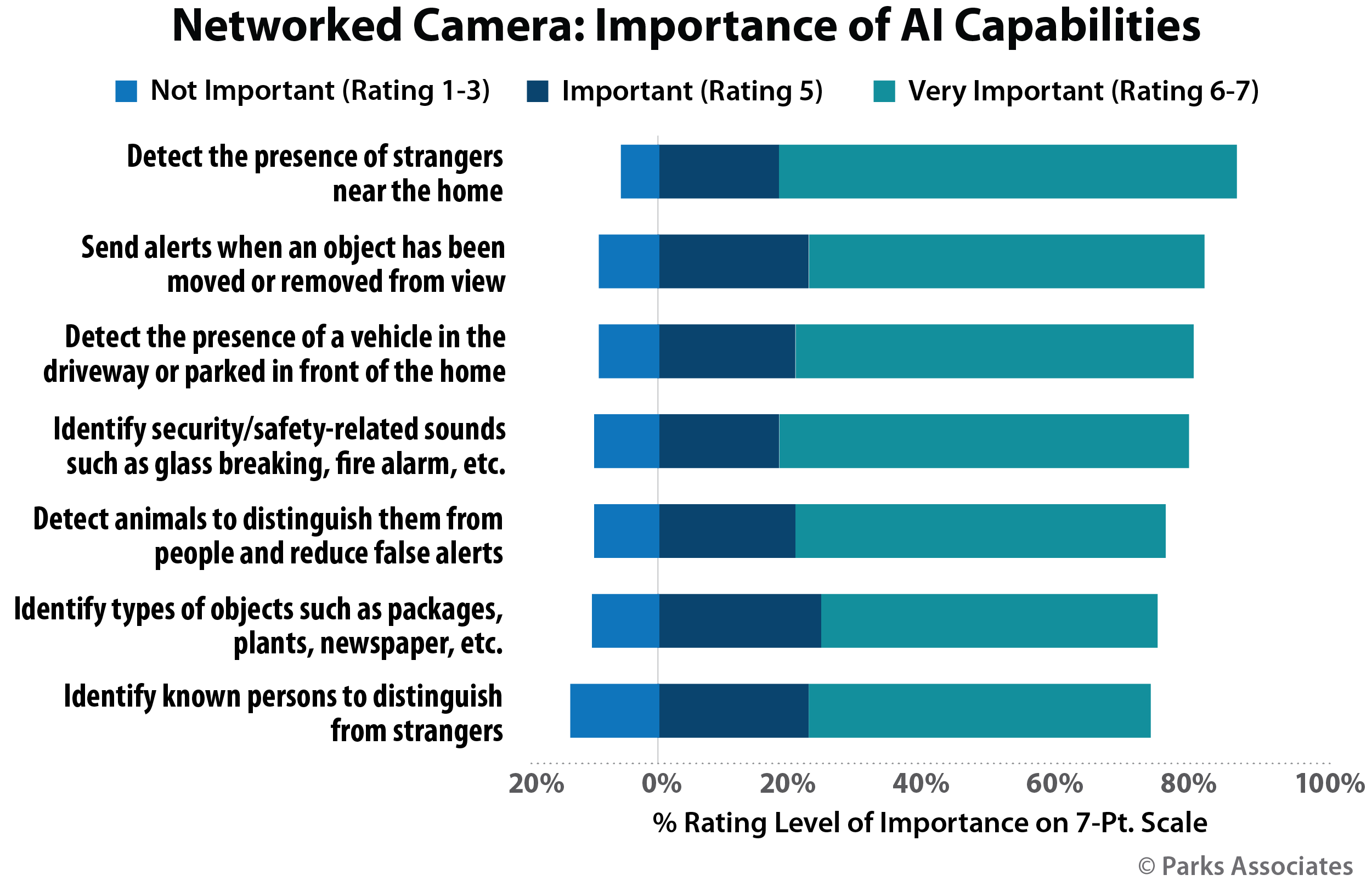 Parks Associates research evaluates the application of AI to video and audio data to improve product and service value in the smart home in the following research products:
Next: Project Connected Home over IP Releases Details and Roadmap
Previous: Smart Product Strategies in Europe: Choosing Communication Protocols

Comments
Be the first to leave a comment.
Post a Comment