Parks Associates analysts present insights on broadband, digital content, advertising, home systems, and digital health at CONNECTIONS™
Parks Associates' leading analysts will explore the implications of high-speed connections and the exponential growth of digital devices in homes as a kickoff to CONNECTIONS™: The Digital Living Conference and Showcase.
The session Analyst Roundtable: Top Trends to Watch, Tuesday, June 24, will feature analysis of the digital living industry and focus on trends in broadband and access services, video delivery, online content services, advertising, digital health, and home systems.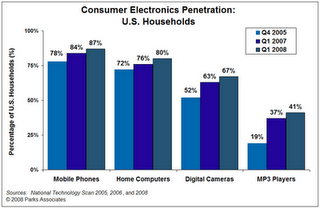 The session will feature Kurt Scherf, Vice President, Principal Analyst; Bill Ablondi, Director, Home Systems Research; John Barrett, Director, Research; Yuanzhe (Michael) Cai, Director, Broadband & Gaming; and Harry Wang, Senior Analyst.
Consumer habits in entertainment are changing in accordance with this surfeit of new devices and services. As of 2007, 50% of U.S. Internet households were watching short video clips online, and 25% were downloading short video files. DVR household penetration reached over 40% of the U.S. online population in 2007, further increasing the place-shifting aspect of video consumption.
Parks Associates designed Analyst Roundtable: Top Trends to Watch to offer a complete and coherent presentation of these digital markets as well as the perfect primer for CONNECTIONS™.
CONNECTIONS™ will be held June 24-26, 2008, at the Santa Clara Convention Center. For more information, visit http://www.connectionsconference.com/ or call 972-490-1113.
Next: Will Xbox 360 Price Reduction Spur Sales in the Near Term?
Previous: Hollywood & The FCC: Plugging dams with Tissue

Comments
Be the first to leave a comment.
Post a Comment