Qorvo: Fragmentation is key challenge to Europe rolling out new smart home products and services
Before attending CONNECTIONS™Europe in Amsterdam, Cees Links, General Manager Low Power Wireless of Qorvo, answered several industry questions:
Where do you feel the largest opportunity is for the smart home industry in Europe?
Security, elderly care, lighting control, smart meters – but all relative small and scattered.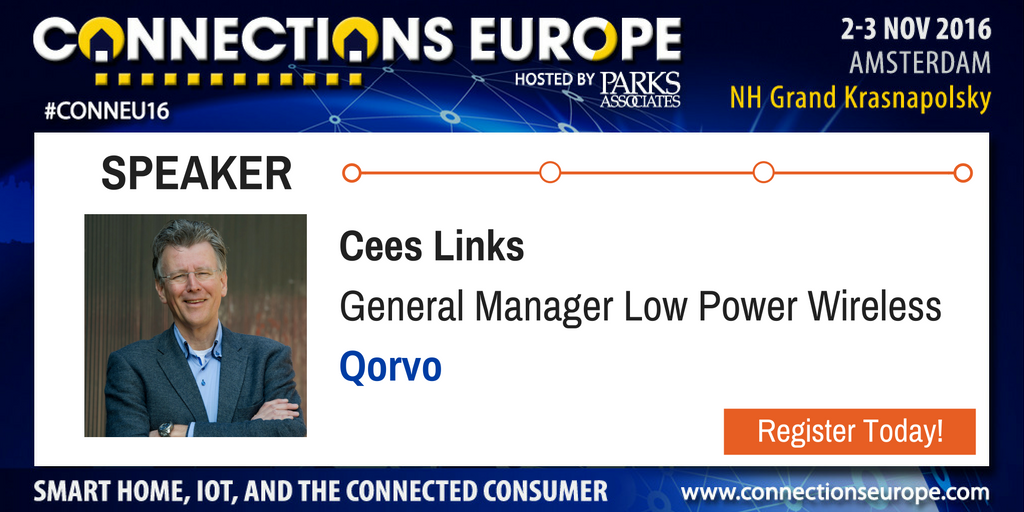 What challenges does Europe face with rolling out new smart home products and services?
Fragmentation of the market, cost hurdles (too expensive), difficult to install.
How will companies leverage the growth in the market in the next 12 months?
Growth at this moment is quite gradual, with everyone looking for a "killer" application.
We are looking forward to hearing you present, but what are you most looking forward to about the show this year?
That smart home developers really are starting to change their minds from pushing products into enabling smart home services.
Links will speak on the session "Value Propositions: Accelerating Adoption of Connected Home Solutions" alongside speakers from Centralite Systems, Logitech, Deutsche Telekom AG, Bosch, and Fibaro Group.
For more information on CONNECTIONS™ Europe and how your company can become involved, visit www.connectionseurope.com.
Next: Customers are the most important players for European smart home industry: Insights from Ageas UK
Previous: Consumers Layer More Self-Installed Devices on Security Systems

Comments
Be the first to leave a comment.
Post a Comment