Tech Support Industry Webcast Will Examine Opportunities in $9 Billion Market
The U.S. market for small- and medium-sized technical support services will grow to nearly $9 billion by 2015.
Kurt Scherf, VP, Principal Analyst, Parks Associates, and Josh Clifford, VP & General Manager, Business Services at PlumChoice, will address changes in the market and examine unique SMB technology needs and the associated revenue opportunities, support environments, and go-to-market strategies for companies interested in launching support services for SMBs during the complimentary webcast "The Market Opportunity for SMB Tech Support" on June 2, 2011, at 2:00 PM EDT/1:00 PM CDT.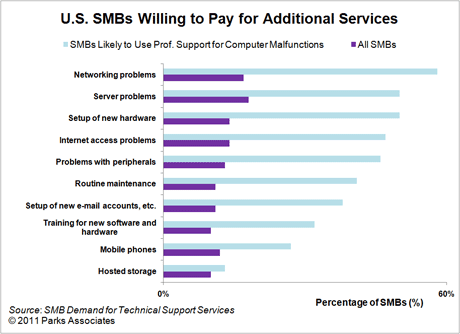 Parks Associates' research finds that a significant percentage of U.S. SMBs are likely to look to managed service providers (MSPs) and other vendors, such as broadband service providers and retailers, to provide a full range of support features. SMB IT managers who are interested in using professional technical support for general computer troubleshooting are highly interested in assistance for hardware and software training, server monitoring and maintenance, peripheral troubleshooting, and network and Internet problem-solving.
Go to www.parksassociates.com/plumchoice-webcast-2011 to register for the webcast "The Market Opportunity for SMB Tech Support."
Next: 34% of U.S. Broadband Households Access Music via Their Mobile Phone
Previous: WEBCAST: Advanced TV Services, May 26

Comments
Be the first to leave a comment.
Post a Comment