Teladoc's Livongo Acquisition Points to Rapid Evolution of Telehealth
On August 5th, telehealth pioneer Teladoc announced that it would be acquiring/merging with leader in diabetes management Livongo in a stock swap arrangement valued at $18.5B. This deal highlights how the telehealth - and overall medical landscape - has changed in 2020 as a result of COVID-19.
Teladoc and Livongo Key Facts (source: Teladoc)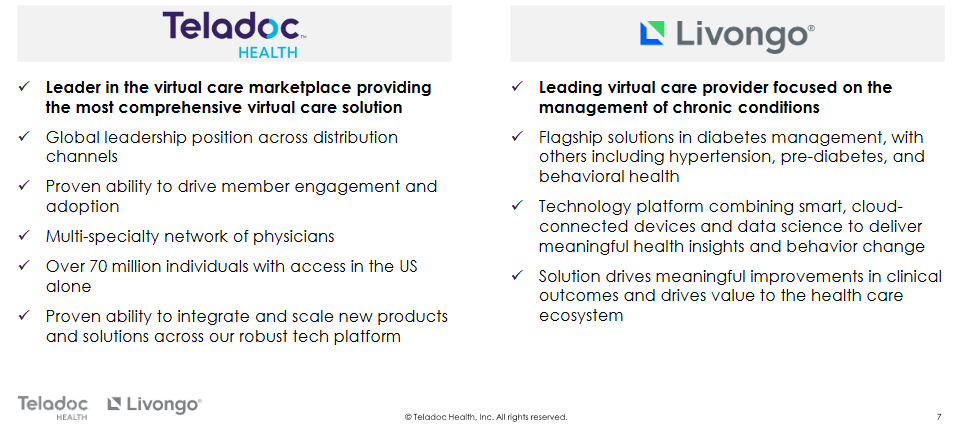 Parks Associates has followed the connected health market for over a decade, watching its slow growth and acceptance in the medical community and among regulators. In 2020, shelter-in-place, social distancing, and restrictions on elective and primary care led to major shakeups in the ways care providers engage with their patient populations. With many providers unable to safely schedule in-person consultations, providers sought and continue to seek alternative ways to conduct visits, make diagnoses, and monitor chronic conditions.
Much like patients themselves, care providers had little choice but to use telehealth - with in-person elective visits gone, many providers stood to lose much if not all of their revenue streams. Telehealth was their best - or only - option for remaining in business. According to Parks Associates consumer survey data, in May 2020, overall telehealth usage nearly tripled year-over-year among US broadband households with 41% of consumers reporting they have used a telehealth service. Some service types saw even more drastic growth.
With the genie out of the bottle, increased demand for telehealth and remote monitoring solutions is likely to be permanent. RPM stands to enhance video visit platforms by providing valuable biometric data to clinicians that can be used for diagnosis and to monitor chronic conditions. Increasingly, however, solutions are pairing biometric data with applications and software aimed at providing guidance to patients and decision support for clinicians. The market is moving towards solutions offering clinically validated results and improved health outcomes.
Teladoc and Livongo's vision of a unified health platform (source: Teladoc)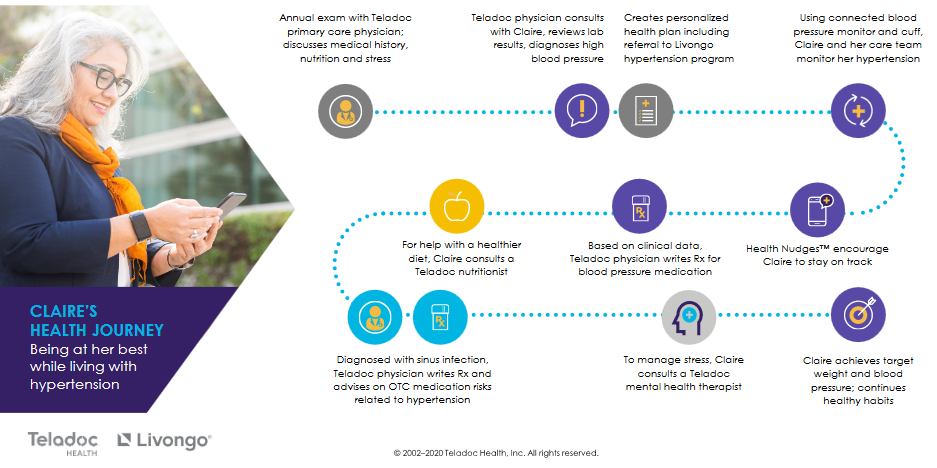 Companies operating in this space with solid, clinically backed, and validated solutions stand poised to capitalize on the virtualization of the healthcare system - a trend that has long been predicted, but was drastically accelerated as a result of the COVID-19 pandemic. Major players in this space - such as Teladoc and Livongo - are preparing for a new world where virtual care has become a major force not just in delivering healthcare but also in improving care outcomes.
On September 1st, Parks associates will be hosting its seventh annual Connected Health Summit. This virtual event will bring together industry leaders to examine trends in the connected health space, providing insights on new business models, technologies, strategies, and lessons learned. Livongo's Chief Product Officer, Amar Kendale, will be speaking on the subject of virtual care solutions and how telehealth and remote patient monitoring are moving to the core of healthcare delivery.
Next: Health and Well Being is a Key Focus for Consumers
Previous: COVID-19, Connected Health Markets, and the Healthcare Economy - People Power Company

Comments
Be the first to leave a comment.
Post a Comment