Virtual Reality continues Steady Growth at CES 2019
by Billy Nayden | Jan. 11, 2019
Despite flat growth over the past year for virtual reality in both consumer familiarity and ownership, VR technologies remained focal points of many companies at CES® 2019, particularly because the technology has generated much higher interest in consumers outside the U.S.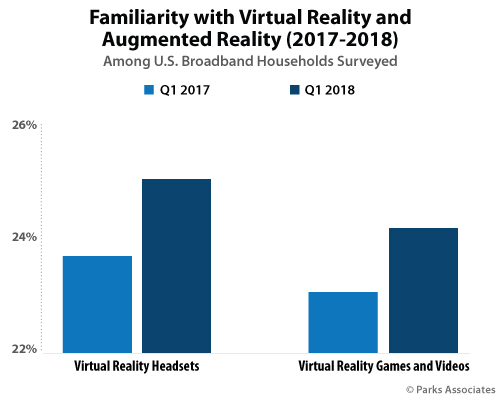 According to Parks Associates' 360 Deep Dive: Ownership, Use, and Perception of Virtual Reality, roughly one-fourth of U.S. broadband households are familiar with virtual reality headsets, games, and videos. Additionally, 8% of U.S. broadband households actually own a headset, an increase since 2017, but still a relatively low adoption rate for the technology.
However, a number of companies the Parks Associates team spoke with at CES 2019 indicated that the VR ecosystem is far more prominent outside of North America. Asian markets have been key drivers of VR innovation over the past few years, especially in Japan, China, and Korea, where VR arcades attract millions of visitors every year. Many companies are looking to build off of this international success to make inroads in the U.S., so with that background, it comes as no surprise that in-home VR was a central component to many announcements at CES 2019.
Companies like VRLEO have produced retail-focused VR setups deployed in shopping malls across Shanghai, and the company displayed its VR products at CES with plans to enter the U.S. market this year.
NVIDIA's CEO Jensen Huang indicated that four million PC-connected VR headsets have been sold globally in the past several years, indicating a steady base of users for a technology that remains very early in the adoption curve.
HTC led the charge for in-home VR announcements, revealing two new headsets in the Vive Pro Eye and Vive Cosmos. While the Pro Eye is targeted at the high-end consumer, the Cosmos will offer a more affordable option for PC-based VR users. The Pro Eye will employ HTC's new eye-tracking technologies, providing greater accuracy and locus of control for users, who can now use their eyes, rather than the position of the headset, to navigate virtual spaces. Additionally, Vive announced partnerships with Ovation, Major League Baseball, and Lockheed Martin, who will all produce content for the headsets.
These CES activities come on the heels of the Oculus announcement for a Quest standalone headset, all of which will contribute to a growing number of products in the VR space, including VR accessories. Companies like Cybershoes have identified issues with the level of immersion offered by current VR headsets and sought to satisfy consumers in an easily adoptable way. Cybershoes created a peripheral that attaches to a user's feet, allowing them to simulate running in VR, all from a seated position. Users are significantly more engaged in virtual experiences, as they must employ their entire body, not simply their hands to play their favorite VR games.
Beyond games, B2B VR had a substantial presence at this year's CES, with many companies developing VR for use in the workplace. Chinese manufacturer Pico revealed its new G2 4K headset targeted at enterprise-level consumers with a powerful processor and high-resolution screen. The headset will join Pico's line of Goblin headsets.
Additionally, HTC Vive has partnered with Ovation to create training software for public speaking. Using eye tracking and recording technologies, the software can track where a user looks during the speech, as well as the number of "ums," "ahs," and "uhs" during a given speech. This is all reported to users in a dashboard after the speech, where they can track their improvement over time. Use cases like this set the stage for the development of VR outside of gaming.
Certainly, the outlook for VR is not as optimistic today as it was a few years ago, but there remains a strong contingent of players in the market, continuing to innovate and improve the experience for consumers. Additionally, a number of new companies have further developed existing technologies and could become significant players in the VR ecosystem over the next few years. Parks Associates research shows consumer familiarity with VR is slowly, steadily increasing, and the emergence of new headsets, accessories, and VR content will undoubtedly drive consumer interest in VR products well into 2019 and beyond.
Further Reading:
Next: Disney+ Making Strong Case to Break into Big Three OTT Services
Previous: Subscription OTT Video Services – Who's On-the-Top?

Comments
Be the first to leave a comment.
Post a Comment