Home Security: More & More Value for Consumers
COVID-19 has redefined the market for security and related smart home devices, with both positive and negative factors emerging in this new environment. From the very beginning of the pandemic, many people, unwilling to risk exposure to COVID-19, have avoided circumstances where an installation or repair technician would enter their home. This cramped growth for traditional security systems also heightens the willingness to acquire self-install security systems.
Countering this downward pressure for traditional security systems are strong new-start home sales (although this is slowly recently given mortgage rate increases) with higher than average adoption of security. The security system and adjacencies such as IP cameras can go straight on the mortgage, with the option to continue monitoring services. In addition, sales of second homes in vacation areas have increased substantially. These market conditions have driven new opportunities and alliances among builders and security players.
The rise of DIY installation of security systems is one of the biggest trends in home security. The installation method for newly acquired security systems and smart home devices has trended towards self-installation for several years, and COVID-19 has hastened the transition as households seek to avoid risk of infection. About one-third of security system owners and intenders report concerns about COVID-19 caused them to avoid professional installers due to the discomfort of having a stranger in the home.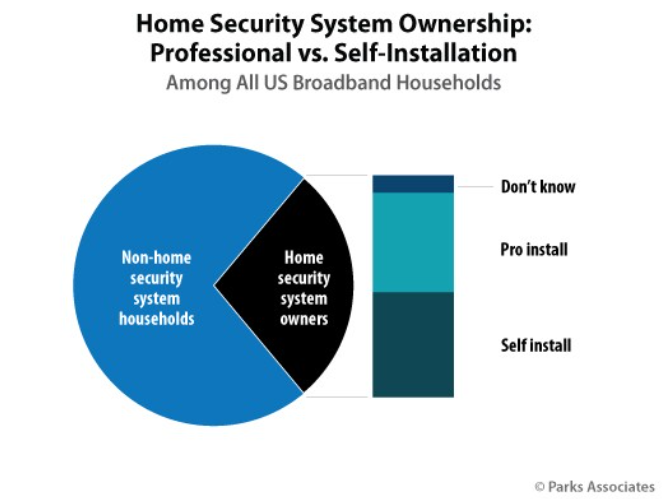 Adoption of DIY systems constituted 50% of all security system sales in the past year. Both DIY and professional install providers are driving product expansion and innovation through the need to differentiate to maintain strong market positions. For all US households, video doorbells are the top smart home device—15% of US internet households owned a smart doorbell as of Q4 2021, up from 10% in 2019.
COVID-19 accelerated consumer desire for remote technical support. Parks Associates research shows that during the summer and fall 2020, at the height of the COVID-19 pandemic, consumers preferred remote support for maintenance and nearly a third were hesitant to have an installer in their home. This trend of remote technical support has continued and now, consumers have a growing expectation for remote support. As consumers move towards online/digital services, security dealers must continue to develop more tools to help support customers remotely, such as YouTube video tutorials and do-it-with-me installation help via video, phone, or chat.
There is a continued rise in the adoption of interactive security services. 36% of US broadband households have a home security system, with the vast majority having monitoring services and expectations of interactive services. Consumers expect their security systems to provide basic interactivity that enables them to access and control the household security system remotely as well as receive notifications as scheduled or requested. These capabilities can occur via smartphone, tablet, PC, or smart speaker. Both DIY and professionally installed systems usually over basic interactive features, which are now considered a necessary offering among security providers.
Home security owners continue to invest in their homes. Since COVID-19, security system and smart home device owners have reported higher-than-average rates to start a home renovation project and purchase at least one smart home device. Almost a third of US households or about 32M households report they are likely to start a major home renovation in the next 6 months, according to Parks Associates consumer data.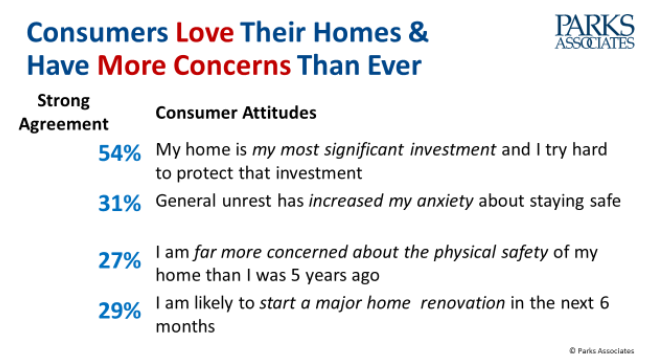 The COVID-19 era has renewed the emphasis on comfort and peace-of-mind value propositions in the consumer mindset. Security service providers now have the opportunity to build on their core offerings by addressing security adjacent use cases that cultivate these benefits. Parks Associates' consumer surveys consistently and that peace of mind ranks in the top three smart home benefits that most influence purchasing. Among security system owners and non-owning purchase intenders, these valuations extend beyond personal space and the home to protect cars, electronics, and pets. COVID-19 has raised interest in a variety of security-adjacent use cases and products, such as monitoring vacation homes or rental properties, monitoring family members and pets, and allowing for the protected package, grocery, and delivery services when no one is home.
Protecting the exterior of a home is a natural extension of an internal security system. 2022 and beyond will be years of further expansion for the industry, with consumers adopting and experimenting with innovative and useful solutions. COVID-19 has changed the way most Americans live, work, play, and go to school, and the security industry, like many others, faces a variety of opportunities and challenges. With consumers at home most of the time, many pay more attention than normal to the condition of their homes, which drives new investments and interest in specific home services and products.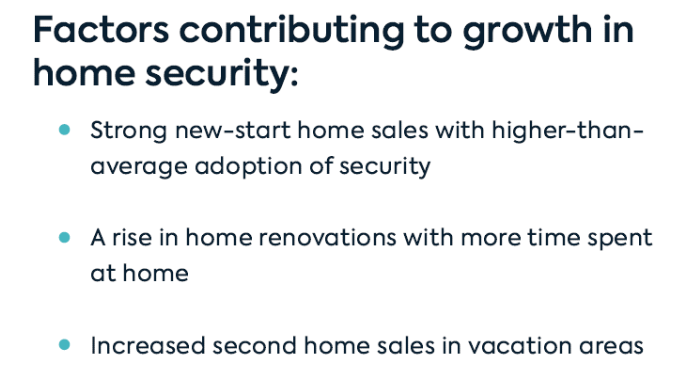 Consumers continue to embrace technology, and while their lives are forever changed as a result of the pandemic, they are turning to connected products and services to accommodate these changes. There will be continued slow and steady growth for the home security and connected home industries, with continued technology innovations, cross-home ecosystem partnerships, and further integrations between products and services.
Next: Access Control Ecosystem: Expanding Value
Previous: Why Consumers Are NOT Buying Smart Home Devices

Comments
Be the first to leave a comment.
Post a Comment