Smart Home Solutions Attract and Retain Apartment Residents
Multi-dwelling unit managers and owners who opt to install smart home solutions can leverage their investments to promote their properties and attract new residents, and providing these in-unit devices to residents can increase occupancy and justify higher rents per unit. The primary benefits of in-unit products have easy value propositions for consumers to understand: access control and energy management solutions.
Access and Control
Smart door locks
Residents can access their unit without keys.
They can provide temporary access to guests and even open the door remotely.
Smart thermostats
Residents can remotely control their thermostats.
They can create preset temperature schedules to reduce their energy usage and save on their bills.
They can preheat or precool their unit ahead of their return home.
Smart speakers
Residents can control devices within the unit using their voices.
They can access the smart speaker virtual assistant skills, which can be used to demonstrate or troubleshoot the usage of other smart home devices on the property.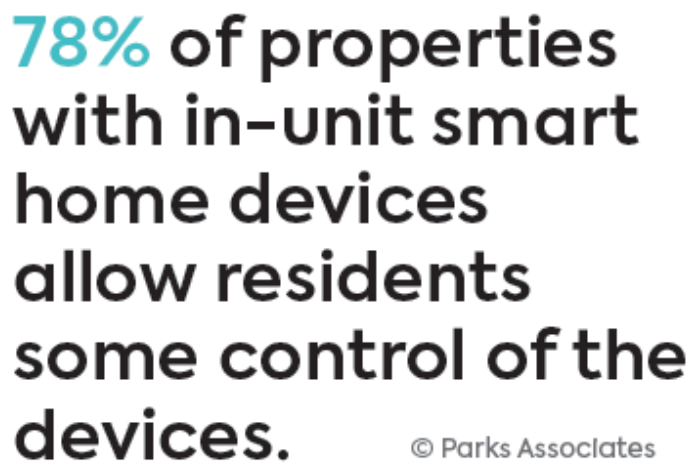 Energy Management and ESG Principals
Energy management solutions identify and reduce sources of energy waste, and this type of "green amenity" is increasingly attractive to consumers. In general, environmental concerns are slowly gaining traction. For example, 21% of US broadband households report the ability to reduce their home's contribution to air pollution and overall carbon footprint would increase their likelihood of investing in a solar panel.
Environmental Social and Governance (ESG) originated in the financial sector as a set of criteria that socially conscious investors can use to judge potential investments. The concept has steadily expanded to include principles used to measure businesses,10 and an MDU can position itself as a good steward of the environment with energy management solutions in place.
A Market Ripe with Opportunity and Future Support Needs
As competition increases, after-sale support is an important offering and differentiator. Currently, 80% of MDU owners and managers with at least one smart home property report their vendor provides after-sale technical support, with the majority at no extra cost.
As connected devices increase, greater centralized control is required, especially if the devices use different communications technologies (e.g., Z-Wave, Zigbee) beyond WiFi. Already, 73% of MDUs with smart home devices installed inside residential units report using a hub, and this will become an even stronger benefit as more MDUs tap into the smart home ecosystem.
Market conditions, combined with increases in the number and capabilities of smart home solutions, make the smart home play attractive for MDU managers and owners. These operators are looking for vendors and partnership opportunities to bring these benefits to their properties, where service providers and device markers can open new markets for their solutions.
The smart home market for MDUs is still in its early stages, though, so owners and managers are looking for vendors with strong and established reputations, in addition to cost and integration considerations. But in a sign of early-market volatility, 58% of property managers and owners with a smart home-enabled property are "very likely" to switch vendors in the next six months. This finding is surprising since these owners/managers are overall very satisfied with the smart home devices currently installed on their properties.
One key to maintaining the account is for MDU smart home vendors to establish confidence in their ability to protect the privacy and data security for the management, as well as all the residents. Given that MDU residents are likely to have varying attitudes on privacy, ranging in severity, vendors will need to cater toward the strongest possible policies.
These are key factors as companies work to capture the smart home opportunity in MDUs. This market offers significant revenue potential with benefits for multiple players, including MDU owners and their staff and residents. With careful consideration to connectivity networks, integration with property management software, resident security and privacy, and training and support, vendors can offer a comprehensive solution that meets the needs of the different stakeholders and will tap into the full revenue-generating potential of this market.
Next: Why Consumers Are NOT Buying Smart Home Devices
Previous: Smart Lighting: Enhancing Smart Home Use Cases

Comments
Be the first to leave a comment.
Post a Comment