The Smart Home Ecosystem & the Role of the Smart Home Platform
Parks Associates hosted our opening virtual session of the 26th annual CONNECTIONS Conference, featuring discussions around the state of the smart home. It was so great to hear from so many industry leaders about the current state of the market and wanted to share some of Parks Associates research insights from our ongoing research work on the role of partnerships, interoperability, and smart home platforms. For almost 40 years, we have been studying the impact of computing and connectivity on technology for the consumer and small to medium business.
We have literally watched the smart home grow up and yet it feels like we are still in its infancy. At this point, we can say the foundation of broadband, connectivity, and wireless technologies is in place. We look forward to tracking adoption of all connected technologies and to see what unfolds for 2022 and the years to come.
From Connected Home to Smart Home
Partnerships are vital to creating an intelligent and coordinated ecosystem. Platforms as diverse as DIY platforms, voice platforms, security platforms, and cable/telco/utility platforms are all building ecosystems of products and services designed to seamlessly work together and provide an exceptional user experience. Each seeks to become the de facto center of the consumer's personalized smart home ecosystem.
The smart home is comprised of a collection of internet-connected products – smart thermostats, smart light bulbs, and smart door locks – some of which have corresponding services, such as professional monitoring or video storage. These emerging connected products and services enable consumers to have more convenient control of the devices and systems in their home and insight into their home's functioning. As device adoption increases and the number of connected products in consumers' homes continue to grow, a coordinated ecosystem of interoperable products is needed.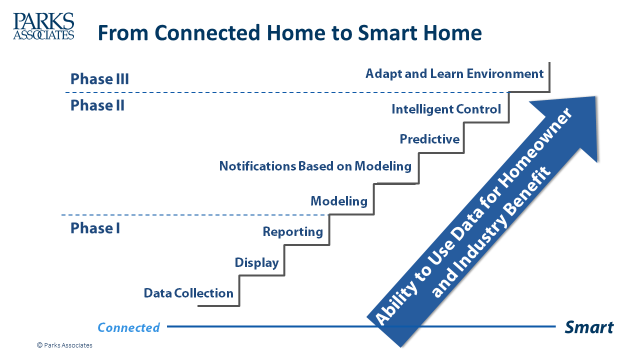 Platform providers offering approaches as diverse as DIY platforms, voice platforms, security platforms, and more are building ecosystems of products and services designed to seamlessly work together and provide improved user experiences.
Parks Associates refers to a smart home ecosystem as an interconnected system where every device works together in harmony, and devices can be added, or taken away, without a disruption of service.
A smart home platform refers to a software system that coordinates products from multiple categories. The software may be embedded entirely in a hub or separate control box, with capabilities that can range from basic home automation and control to advanced whole-house automation and monitoring. Alternatively, smart home platforms may combine software in the controller with software in a cloud.
As of Q4 2021, Parks Associates consumer research shows 37% of internet households own a smart home device, a substantial increase from the end of 2018 when only 24% of U.S. broadband households reported owning one of the core smart home devices.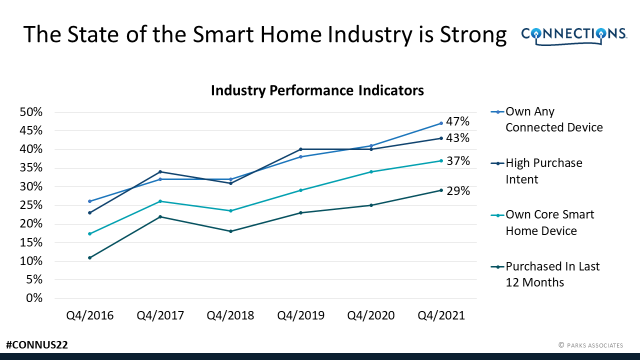 As the number of devices that a household owns increases, so does the importance of interoperability. While interoperability is most easily achieved by devices using the same networking protocol, such as Z-Wave, Zigbee, or Wi-Fi, the smart home industry is highly fragmented. To overcome fragmentation, application layer initiatives seek to enable interoperability across various protocols. With many standards introduced to market over the years, the Matter initiative was introduced recently by the Connectivity Standards Alliance and over 400 industry players are working together to create this new standard with the promise of seamless integration and a simple, unified experience for the consumer.
The explosion of smart home point solutions and the advent of smart speakers has increased consumer awareness of smart home products and capabilities. As smart home device adoption escalates, smart home platforms can bring order to the connected home ecosystem. Most consumers do not yet think in terms of platforms, but Parks Associates research shows they do want the convenience of their devices working together.
Even when unfamiliar with the term "smart home" for specific products and systems, consumers intuitively understand the value of a system that enables devices to work together and prefer it over a collection of stand-alone devices. While interoperability can be achieved through cloud-to-cloud APIs between distinct devices, platforms that provide interoperability with a variety of products offer consumers more value and convenience. Among smart home device purchase intenders, the ability to work with other products ranks more highly than even brand considerations.
Smart home platforms can address these consumer desires with the following benefits:
Provide a reliable, interoperable ecosystem
Offer a simplified user experience
Deliver expanded value through enhanced features
Leverage edge and cloud intelligence
Bolster data security and privacy
Despite the ability of smart home platforms to bring together all the moving pieces of the smart home, consumer familiarity with smart home platforms remains relatively low. When consumers explore smart home solutions, they typically look to buy products that serve a clear need or use case; generally they do not look to buy platforms. Very few, in fact, are familiar with any smart home platforms beyond leading voice-assistant platforms. Despite a lack of consumer awareness around many smart home platforms, familiarity is slowly increasing for these solutions.
As the smart home industry looks to extend beyond early adopters and general tech enthusiasts, integrations, cooperation, and partnerships are critical for the smart home to cross the chasm into mass-market adoption. Controlling the ecosystem will provide industry players with additional hardware revenue from current and future complementary devices and provide improved data collection capabilities that drive alternate revenues for advertising, ecommerce, and adjacent services.
Trust is at the heart of the matter for consumers and privacy and security issues must also be addressed directly and aggressively by industry players.
Next: Evolution of Residential Security: New Market Structure
Previous: Tech Support Needs for the Connected Consumer

Comments
Be the first to leave a comment.
Post a Comment