Parks Associates' CONNECTIONS Conference Continues with Insights on Trends of the Residential Security Market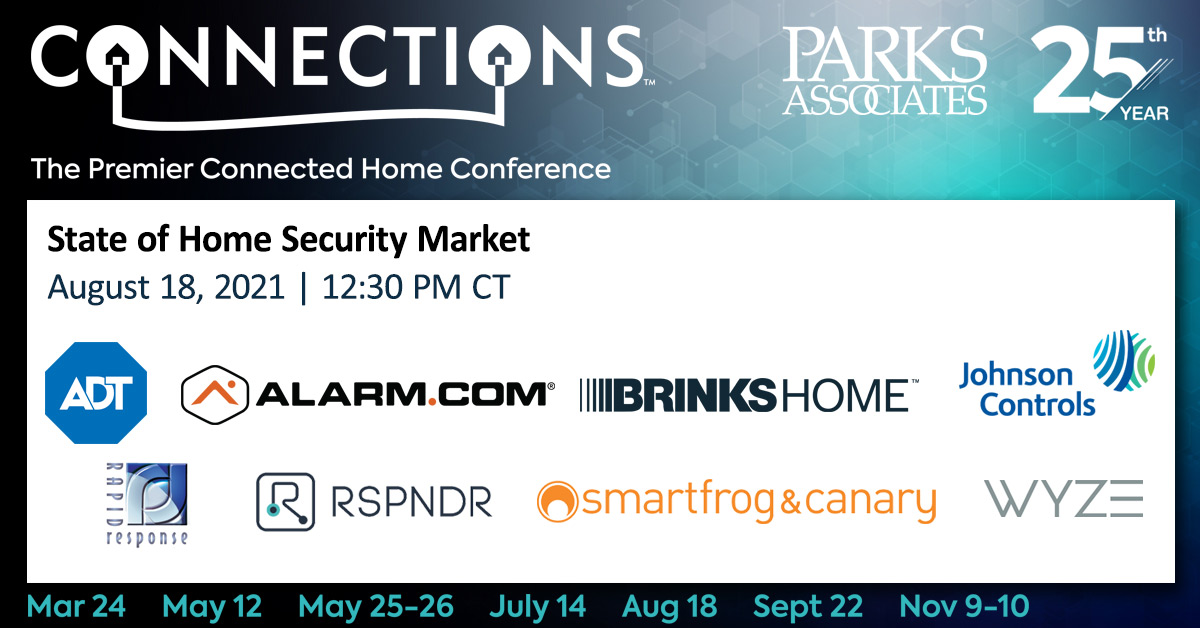 Parks Associates continues its 25th annual CONNECTIONS: The Premier Connected Home Conference virtual series with the upcoming session State of Home Security Market on August 18 from 12:30 PM to 2:45 PM CT. During this session, leading industry executives will address the state of the residential security market, critical trends impacting industry stakeholders, and the top opportunities for revenues growth. Throughout the event, Parks Associates will highlight exclusive research data from their report Security Consumer Segments and Journeys which identifies security consumer segments and their personas based on consumer demographics and psychographics as well as purchase process journeys for security systems and devices.
"Security faces a mixed bag environment resulting from COVID-19," said Parks Associates' CEO Tricia Parks. "Security consumer are adding ever more smart devices to their systems. However, some householders avoid installation and repair technicians entering their homes, cramping growth for traditional security systems but heightening willingness to acquire self-install security systems. Also countering downward pressure for traditional security system are strong new start home sales with a higher than average adoption of security."
Register now to join interactive conversations regarding trends of the residential security space, how to promote market growth, and more. Parks Associates will feature exclusive research and industry experts who will share insights on how industry stakeholders are impacted by the current residential security patterns:
Thank you to our event sponsors: Alarm.com, Calix, COX Communities, SmartRent, Xfinity Home, Bitdefender, Tuya, Ayla Networks, Plume, and Airties.
Register today for year-round access to all previous and upcoming sessions on August 18, September 22, and November 9-10!

Next: Looking at Ray-Ban Stories through Smart Home Glasses
Previous: Parks Associates Announces 2021 CONNECTIONS Sponsor Xfinity Home

Comments
Be the first to leave a comment.
Post a Comment