AutoGrid to be Acquired by Schneider Electric as Interest in Renewable Energy Rises
by Tam Williams | May. 11, 2022
AutoGrid, which specializes in AI-driven optimization for distributed energy resources (DERs), has just announced that it will be acquired by Schneider Electric. The two companies have been working together since 2015 and in 2020, they introduced an integrated solution focused on digital transformation for utilities. Once the agreement passes regulatory approval and the usual closing conditions, the deal is expected to close in Q3.
Parks Associates' research reveals that smart energy products and services, renewables, and electric vehicles are gaining traction with consumers. While the interest is strong and getting stronger, there continues to be a major knowledge gap. Thirty-three percent of US broadband households don't know the source of power behind their electricity, and 40% of these households don't know where to look to find out. Further, 44% of US internet households say they actively work to reduce energy consumption, but only 19% are aware of energy monitoring and management products.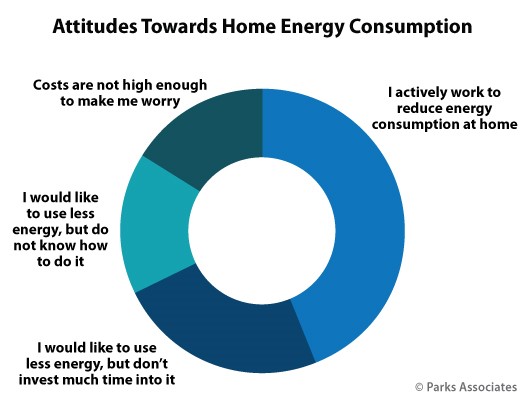 In spite of the low familiarity, purchase intention of major equipment is at an all-time high. EV purchase intention leapt 6 percentage points as Tesla became a household name and major auto OEMs including Ford, GM, and Stellantis brands began announcing and marketing their new electrified models.
Change in the solar space could drive the next wave of growth. Innovations like GAF's nailable shingles and M&A/partnerships such as ADT's acquisition of Sunpro, and now Schneider Electric's acquisition of AutoGrid, increase consumer options and channels for delivery of solar solutions.
Executives from AutoGrid and Schneider Electric recently spoke at Parks Associates' Smart Energy Summit: Engaging the Consumer, addressing successful strategies that are driving adoption of energy management solutions in smart home and energy markets, including solar-powered energy communities.
Schneider Electric will also join Parks Associates at the 26th annual CONNECTIONS™: The Premier Connected Home Conference where Brad Wills, Director: Strategic Customers & Programs, will speak during the session, "Paradigm Shift: Smart Home and the Future of Energy," which brings together industry leaders to discuss how the electrification of the grid and new models for solar and storage are coalescing to bring about a new reality in home energy management where connected home devices and platforms enable the consumer to be an engaged and active participant in energy markets.


Next: Smart Home Energy Solutions: Making a Complex Future Simple - Free Webinar with Schneider Electric
Previous: Data Analytics and Home Energy Providers

Comments
Be the first to leave a comment.
Post a Comment