Parks Associates Announces Notion as 2021 CONNECTIONS Session Sponsor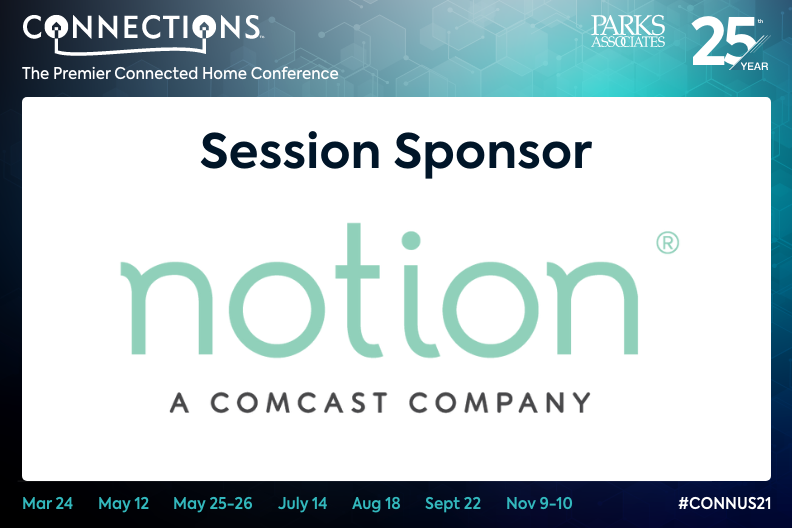 Parks Associates' CONNECTIONS: The Premier Connected Home Conference series is excited to announce Notion as a sponsor of the upcoming session Insurance and Smart Home.
Notion empowers home and property owners to be proactive in monitoring their spaces and most valued possessions. The Notion smart monitoring system is committed to helping reduce the risk and complexities of property ownership. Through partner programs, Notion helps insurance carriers, agents, and service providers provide value to their customers with Notion's DIY smart home technology. The easy-to-use Notion system, powered by a multifunctional sensor and app, aims to help drive customer acquisition, increase engagement, reduce claims, and enable a differentiated offering.
Don't miss the upcoming CONNECTIONS sessions Smart Home: Bridging Platforms and Changing the Experience Sponsored by Johnson Controls and Privacy and Security on Tuesday, November 9, followed by sessions Europe and the Smart Home and Insurance and Smart Home on November 10. During these sessions, major industry executives will discuss consumer preferences for smart home control, trends in interoperability, challenges in securing the smart home, value propositions that will drive smart home adoption in different European markets, and much more.
Parks Associates also welcomes Notion as a 2022 event sponsor of the CONNECTIONS Summit at CES taking place on January 5 in Las Vegas. This executive event features panel discussions on the smart home, Internet of Things (IoT), and connected entertainment, analyzing trends and implications for connected consumers and opportunities for companies to build new revenues and innovative business models. For more information on this event, view the agenda today!
For more information on these events or sponsorship opportunities, please contact sales@parksassociates.com

Next: Parks Associates' 25th Annual CONNECTIONS Conference Returns with Insights on Europe, Insurance, and the Smart Home
Previous: Parks Associates Welcomes Cox Communities as 2022 CONNECTIONS Summit Reception Sponsor

Comments
Be the first to leave a comment.
Post a Comment