Privacy and Security: Building Trust in the Connected Home
There is continued demand for new products and services spanning beyond just traditional PCs and mobile devices including entertainment products, appliances and productivity tools, connected health devices and a multitude of smart home devices.
Securing these products against the mass of internet threats and leaks has become an ever more complex task.
Parks Associates quarterly survey of 10,000 internet households tracks adoption of all connected devices used by consumers. Today's homes boast an average of 14 internet-connected devices and now 37% of all US broadband households have a least one smart home device and 22% have at least one smart appliance. Households with smart home devices own an average of 8 of those devices.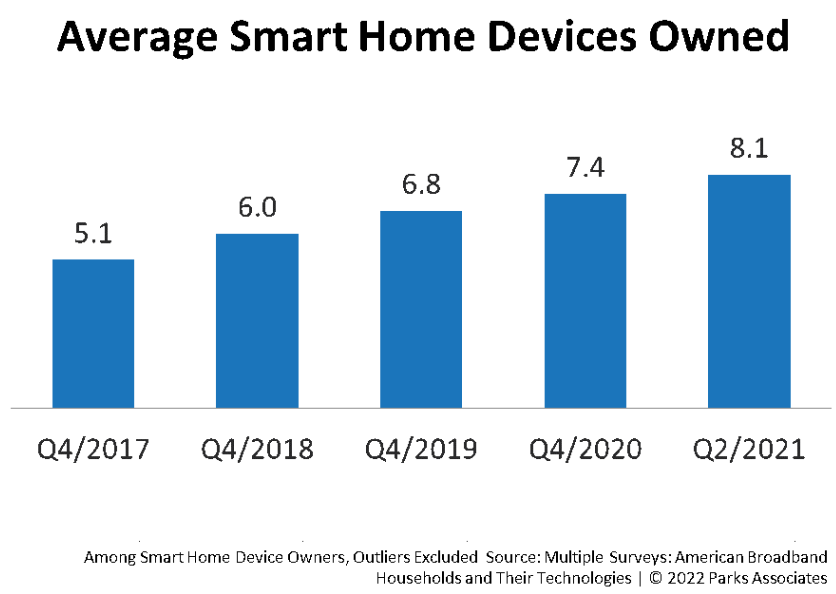 A growing concern for consumers is not just that of intrusion by hackers and malware, but also privacy and data security. 3-in-4 broadband households are concerned about their personal data security more than half saying they are very concerned. The rising need for a more holistic digital protection creates a business opportunity for many ecosystem players in the connected home security space.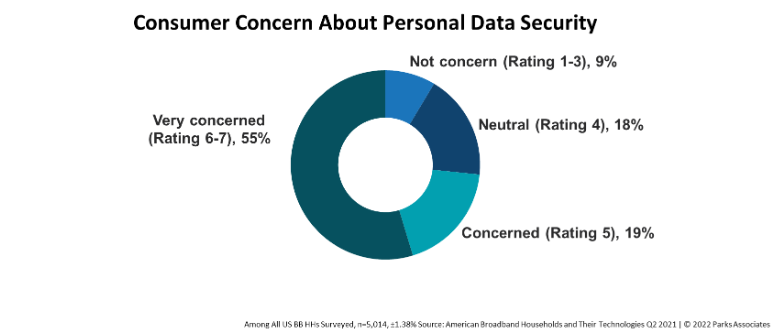 As familiarity and value grow around specific device categories, there is more and more awareness of potential security and data threats and those with more smart home devices are more likely to be concerned about data privacy than others. It makes sense that smart home device owners have more concerns because they tend to be younger and early adopters of technology. They are also likely to have a more sophisticated understand of security issues and may have more of their data online as part of their generally high-tech and highly connected lifestyles.
Data security and privacy have always been a barrier to adoption of connected devices. Tech giants are responding: Google and Amazon implemented features that allow users to control when/if audio and video is stored and advanced encryption for that content. New software solutions are available to manufacturers for inclusion with their products or sold directly to consumers. Certifications from groups like UL and ioXt can help put customers at ease, but still the threat exists. Unprotected connected devices can serve as an entryway to the home network and threaten a consumer's most valuable devices and private data.
Not all consumers see this issue the same way. There are different segments to consider as all consumers understand the cost/benefit tradeoff for data generally. Some show interest in and willingness to pay for help protect their network and devices through different solutions. Overall, though, Parks Associates shows consumers take a number of steps to protect their data privacy and security including turning devices off, erasing data, using firewall devices, using whole home router solutions and more.
Consumers are clearly aware that the modern online environment requires some attention to policies and maintenance in terms of erasing data they do not want shared across apps and devices. Meanwhile, they either take for granted or don't understand that many modern router and gateway solutions include security features. Either way, players in this space should take note of an opportunity to educate consumers on the benefit they are providing.
Consumers also understand that companies have access to their data and that likely is part of decision marking process when making a purchase. Any company – especially the tech companies – that can evoke trust has a big advantage in the marketplace.
Consumers do not think their data can be kept secure — Almost two-thirds of consumers agree it is impossible to keep data completely secure. Consumers experiencing a high number of privacy problems also report high awareness that data cannot be kept completely private, yet they generally still trust the companies that have access to their data.
The data stewards have an opportunity to reward this trust by working with their customers to resolve problems. Customer experience research across industries commonly shows a bounce back in favorable opinion that can come from problem resolution.
This is an excerpt from Parks Associates study, Data Privacy and Security in the Connected Home. The research identifies the shifts in consumer attitudes around data privacy, including desire for privacy controls and preferences for how companies collect and manage their data. It also quantifies the data privacy and security issues that consumers experience and the interest in solutions to keep data safe.
Key questions:
1) How mindful are consumers with security and privacy?
2) What steps are consumers taking to protect their data and sensitive information?
3) How are consumer attitudes changing regarding data privacy and security?
4) Does device adoption increase or reduce security and privacy concerns among consumers?
5) How can consumers with similar attitudes regarding their data be grouped and what are their common characteristics?
6) What challenges and opportunities exist for data security companies?
Next: Enabling Intelligent Home Automation: Creating the Vision of our Future
Previous: Smart Home Growth and Fragmentation Create Opportunity for Unified Control

Comments
Be the first to leave a comment.
Post a Comment