Utility Programs: New Strategies Needed To Engage Consumers
Energy management programs and smart energy solutions can deliver immediate cost benefits to consumers, but the energy industry has generally been unable to find solutions that trigger widespread engagement among their customer base. Utilities have tried different strategies over the years to engage consumers, including a range of energy efficiency (EE) programs that leverage smart thermostats and smart meter data to deliver energy and cost savings.
Despite these efforts, a large percentage of consumers still do not engage with home energy management solutions. A variety of factors influence whether or not consumers adopt and use a specific solution, including ease of use and timeliness of information.
Utilities must adopt new strategies that can account and adjust for these varying factors. To achieve the capabilities and functionality needed, utilities can leverage the expanding presence of connected assets in the home, such as smart thermostats, smart lighting, and smart plugs, to develop a comprehensive digital strategy that improves adoption of their energy management programs and expands their offerings to generate additional revenue.
Consumer energy management behaviors in the US vary broadly, often impacted by energy costs and regulations in a given region. Parks Associates segments consumers into three main categories based on the type and extensiveness of the energy actions they are willing to take. These include mindful actions, home improvement actions, and extreme measures.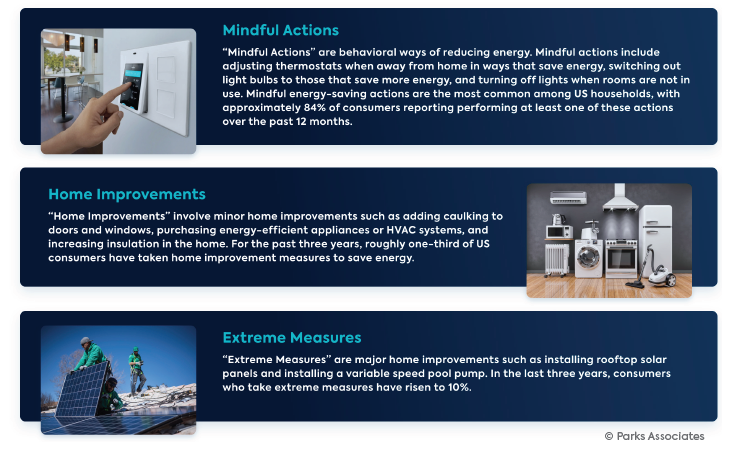 There is growing interest from consumers in saving energy, particularly with extreme measures.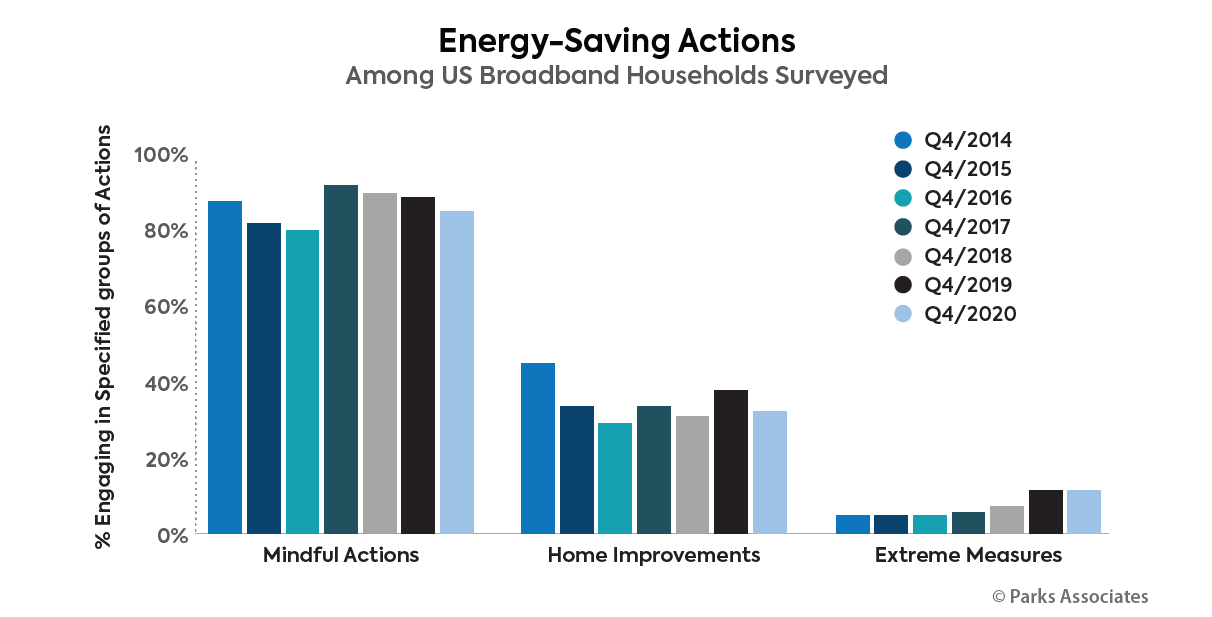 Participation in Utility Energy Management Programs
Over the past few years, utilities have developed different programs that incentivize customers to participate in energy management programs, ranging from "light-touch" informational services to more elaborate programs that control equipment inside the house.
Informational services provide consumers with insight on their energy consumption patterns, giving them the opportunity to make changes that save energy. However, historically they often have not been able to discern the available actions to them in order to effect change.
Thirty-one percent of US broadband households report receiving a daily breakdown of the energy use from their energy provider. Among these consumers, only 7% review these insights daily (2% of all broadband households). The majority (62%) review them only on a monthly basis. These actions convey a general lack of enthusiasm about energy data.
In general, the informational approach to date has not provided actionable insights or tangible results among energy consumers.
As energy management solutions evolve, programs that involve adoption and use of smart home devices, such as smart thermostats, can leverage built-in algorithms, providing automatic recommendations to consumers to modify their energy usage, which minimize unnecessary energy consumption throughout the home and aid the consumer in saving money.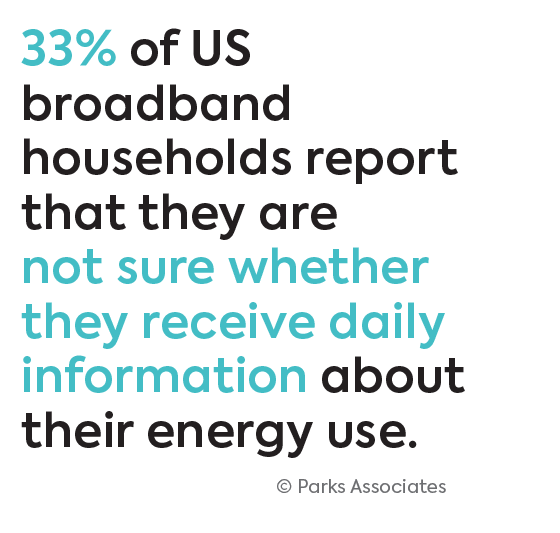 Energy providers have also offered demand response (load control) programs and time-of-use rate plans, which incentivize consumers to move energy consumption away from peak periods, along with offering rebates for EE products and providing tiered price options. However, only a small minority (approximately 10%) of broadband households report adopting these different services offered.
Consumer Motivation for Energy Management
Despite their lack of historical engagement with energy management solutions, consumers have pain points that can motivate them to participate in energy-saving actions, provided solution providers can design their offerings to meet these needs.
Saving Money
While energy bills are somewhat predictable throughout most of the year, extreme weather conditions at the peak of summer and winter seasons can cause fluctuations in energy bills, leading to bill shock. Most consumers would prefer to avoid these unpredictable costs.
Combining increased residential energy consumption with the negative impact on personal finances gives consumers added incentive to reduce energy usage.
In addition, the impact of COVID-19 on consumers' lifestyles, work, schooling, and transportation patterns has been immense. Consumers have spent more time at home over the past year, driving up residential energy use and bills.
As such, 29% of consumers reported being "very concerned" with their ability to pay their bills as of September 2020 — a percentage which increased as the pandemic continued on.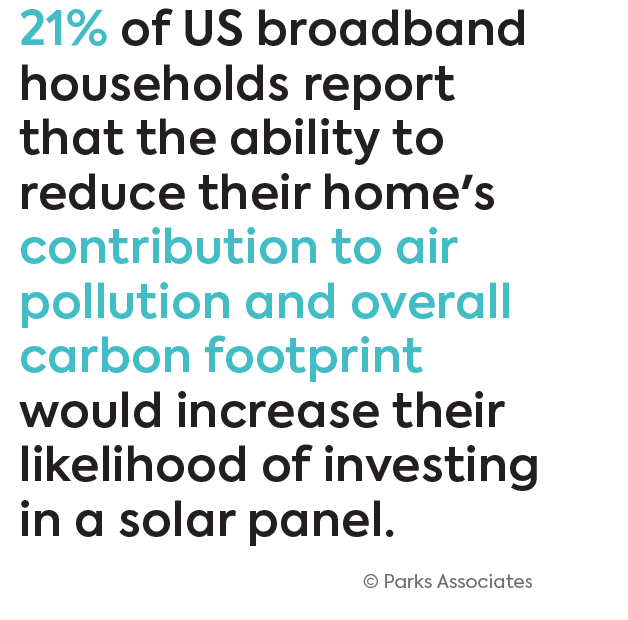 Minimizing Carbon Footprint
Protecting the environment is gradually becoming a stronger factor in driving consumers to reduce their energy consumption and seek clean-energy alternatives. Some consumers will seek out clean-energy solutions on their own, but to drive wider adoption, utility solutions need to make these options convenient to find and painless to adopt.
Increase in Electric Vehicle (EV) Adoption
Adoption of electric vehicles (EVs) increased by more than 100% from 2018 to 2019. Given the high impact of EVs on home energy consumption, growth in EV ownership could spark an increase in the need for home energy management solutions. Research has shown that EV owners are more likely to take extreme energy saving actions in the homes than consumers who only take minor actions to save energy.
Consumers want the benefits of energy savings, but today many do not take more than simple, minor actions to save energy. Utilities must make the benefits of energy-saving behaviors worth the effort and investment. The digitization of the home enables alerts and automations that reduce the level of effort needed by consumers to save energy, thereby increasing their engagement in energy savings actions.
This week, Parks Associates is hosting its 13th annual Smart Energy Summit: Engaging Consumers in Texas (in- person) and we are excited to talk about new ways to engage consumers in energy management programs. This research is an excerpt from a white paper partnered with Cox Communications and published recently. To view the full white paper, click here: Home Energy Management: Driving Consumer Engagement and Revenue
We welcome and appreciate any feedback on our research work.
Next: How Texas Saves $1 Billion in Energy Costs a Year: Optimal Load Shaping
Previous: Parks Associates Announces Zen Ecosystems as 2022 Smart Energy Summit Sponsor

Comments
Be the first to leave a comment.
Post a Comment