Parks Associates' 25th Annual CONNECTIONS Conference Returns with Insights on Europe, Insurance, and the Smart Home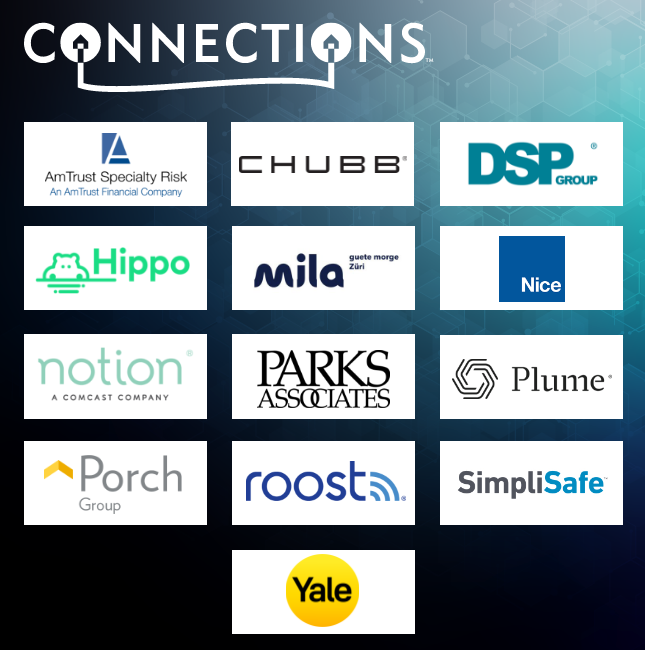 Smart home products have yet to achieve critical mass in Europe. Parks Associates finds that 55% of UK broadband households do not own and do not plan to purchase smart home products due to lack of personal benefit. However, introductions of new connected products that bring new value is driving increased adoption and future purchase intentions. An emerging opportunity for smart home growth includes the collaboration of insurers and smart home solution providers, as 70 million US households have home insurance and nearly 16 million have renters insurance.
Parks Associates continues its 25th annual CONNECTIONS: The Premier Connected Home Conference virtual series with final sessions of 2021 Europe and the Smart Home and Insurance and Smart Home Sponsored by Notion on Wednesday, November 10 from 11 AM to 4:45 PM CT. During these sessions, major executives will identify the value propositions that will drive smart home adoption in different European markets, examples of smart home solution providers working with home insurers to moderate risk and the challenges that must be addressed to leverage the full potential of this channel to the smarter home, and much more.
Register now to gain insights on exclusive research and join interactive conversations with industry experts regarding the high cost of traditional security services, driving factors of cost savings for insurers and consumers, and more:
• Juan Pablo Boz. Group Chief Marketing Offficer, Nice
• Tali Chen, Chief Business Officer, DSP Group
• Markus Henkelmann, Director Smart Residential Products Yale EMEIA, Assa Abloy Group
• Chris Viatte, CEO & Founder, Mila AG
• Dave Wechsler, VP, Growth Initiatives, Hippo
• Brett Jurgens, CEO, Notion
• Elaine George, Digital IoT Operations, Chubb
• Adam Kornick, President, Insurance Division, Porch
• Aleem Lakhani, Executive Vice President, US Specialty Risk, AmTrust
• Roel Peeters, CEO and Co-Founder, Roost
• Matt Wolf, Head of Partnerships, Simplisafe
Thank you to our event sponsors: Alarm.com, Calix, Cox Communities, SmartRent, Xfinity Home, Bitdefender, Notion, Tuya, Ayla Networks, Plume, Johnson Controls, and Airties.
Register now for year-round access to all previous and upcoming CONNECTIONS sessions!

Next: What are the Key Drivers in Europe? - Insights from ASSA ABLOY
Previous: Parks Associates Announces Notion as 2021 CONNECTIONS Session Sponsor

Comments
Be the first to leave a comment.
Post a Comment