What are the Key Drivers in Europe? - Insights from ASSA ABLOY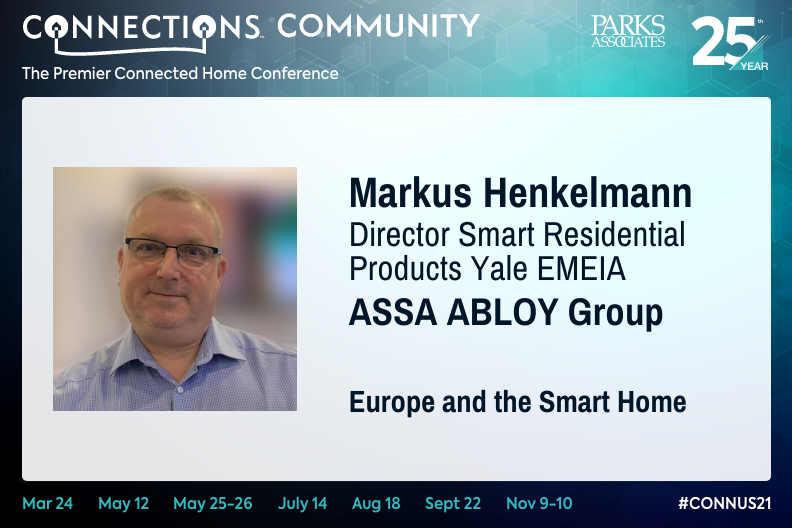 Parks Associates' 25th Annual CONNECTIONS: The Premier Connected Home Conference returns for the final sessions of 2021 Europe and the Smart Home and Insurance and the Smart Home Sponsored by Notion from 11 AM to 4:15 PM CT. Markus Henkelmann, Director Smart Residential Products Yale EMEIA, ASSA ABLOY GROUP will be featured as an interactive panelist during the session Europe and the Smart Home at 12:15 PM CT, where he and other major executives will address the value propositions that will drive adoption in European markets. Prior to the session, Markus provided insights on how the European market has evolved over the last year and a half, they key value propositions that drive adoption in the region currently, and the new services that Yale has introduced to extend the value of smart home tech for consumers:
As more consumers spend more time at home than ever due to social distancing efforts and other household behavior shifts, how have the key drivers for security and smart home purchase changed in the last year or two?
Consumer habits have changed significantly over the last 1,5 years. For one, today's consumers are a lot more wary about inviting installers into their homes, and look for quick and easy product installation that they can carry out themselves. Smart home products that can be activated free of touch have become another major driver. These are viewed as safer and more hygienic solutions during the pandemic.
With remote work and homeschooling becoming the norm, consumers have appreciated the convenience offered by smart cameras, with parents being able to keep an eye on their kids in the second room while they focus on work, or check who's at the front door, all without having to move from their desk.
Finally, as our homes transformed into our new workplaces, smart home products such as safes have grown in popularity among those looking to store valuable work documents or electronics at home.
What are some of the new home services that manufacturers are introducing to extend the value of smart home devices in ways that add convenience to consumers' lifestyles? What key challenges impact each service?
With a total of 290 million European consumers having shopped online in 2020 alone, our new Yale In-Home Platform is the perfect example of a new home service that adds convenience to everyday life.
As we begin returning to the office, missed deliveries and inconvenient parcel pick-up locations are likely to become a regular challenge. And with a recent study indicating that a large share of consumers opted in for 'home delivery in the daytime' as their preferred delivery method, the Yale In-Home Platform is a welcomed response.
The Yale In-Home Platform will allow consumers to manage deliveries and other in-home services on their own terms. As part of this initiative, we will focus on 5 key areas: grocery, parcel delivery, home care, holiday rental, and in-home services.
As smart home products gain in popularity in Europe, what value propositions drive adoption in different European markets?
Residential Security, Access Control, Saving Energy, and the overall benefit of everyday convenience have been some of our main value propositions in Europe.
Starting with residential security, studies have shown that European consumers enjoy being able to control their smart home products through the use of their voice alone, which is why our partnerships with the likes of Google Assistant or Amazon Alexa have been crucial in meeting this need.
Likewise, partnerships with other major brands such as Philips Hue have allowed us to add an additional level of security to our existing products, such as the Linus® Smart Lock or the Sync Smart Home Alarm. For example, the Sync Smart Home Alarm integration combines light and sound to create the ultimate double deterrent and discourage burglars. If triggered by movement, the alarm will activate and Philips Hue lights will flash red, notifying the neighbours of a break in.
Access Control and the convenience of being able to gain keyless access into the home, or grant controlled access from anywhere in the world, is something that has been appreciated by our consumers using the Linus® Smart Lock.
The final value proposition is saving energy. European consumers want to get more value out of their smart home tech, and do so in an efficient way. In support of this objective, we have recently partnered up with Home Connect Plus, an app that enables control of smart home products from different brands centrally. Now, consumers can connect their Linus® Smart Lock to different smart home devices or whole systems to get even more value out of their smart home technology and ensure maximum energy efficiency.
Register now to join the virtual discussions regarding smart home adoption in Europe, how smart home solution providers can work with home insurers to leverage the smart home's full potential, and much more!

Next: Parks Associates Welcomes 2022 CONNECTIONS Summit Sponsor GE Lighting, a Savant Company
Previous: Parks Associates' 25th Annual CONNECTIONS Conference Returns with Insights on Europe, Insurance, and the Smart Home

Comments
Be the first to leave a comment.
Post a Comment